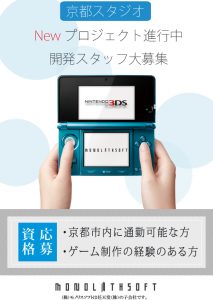 Above is the recruitment poster for an upcoming project by MonolithSoft's Kyoto studios. From the developers of the Wii sure-to-be-cult classic Xenoblade, getting a limited release in America, apparently they've already begun work on a new project with a new team.
The job askings below the above recruitment poster, in their recruitment page, they ask for all the trimmings, both creative and bureaucratic, and have just recently added in Effects Designer and Motion Designer to round out the page.
While it may not be strictly a 3DS game, the clues are all laid out. New team under a picture of someone holding a 3DS. Good stuff.