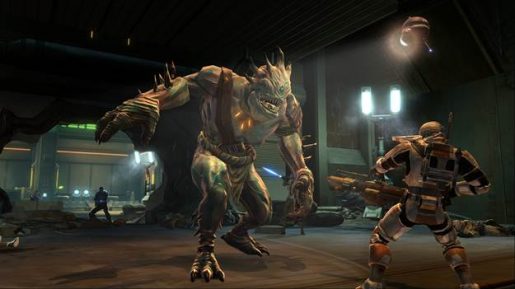 A new content is on its way to Star Wars: The Old Republic on January 17th that will feature a lot of content for subscribers who have reached level 50.
Rise of the Rakghoul is the first content to hit Star Wars: The Old Republic and will include new flashpoint that up to four players from the Republic or Empire side can team up and eliminate the threat of the Rakghouls. A new flashpoint called "Kaon Under Siege" located on Koan will be available, which is a neutral planet of the galaxy. In this Flashpoint, a group of players must contain the Rakghoul's outbreak to secure the allegiance of the Tion Hegemony.
"A month ago when we launched the Early Game Access program for Star Wars: The Old Republic, we promised our fans that this would just be the beginning of our journey together," said GM and Bioware co-founder Greg Zeschuk. "Rise of the Rakghouls adds a lot of the things our community has been asking for – additional higher level group content, features like anti-aliasing, PvP bracketing and more.
Following this content, the next one is coming this March 2012.