Click here for more Skyrim Guides
After completing the quest Hard Answers, head back to the Ragged Flagon via the Ratway as the graveyard entrance will be locked. Speak with Karliah and help her speak with the rest of the Guild to learn just how deep betrayal can run among thieves. After all is said and done, you are tasked with the infiltration of Mercer's Riften home, Riftweald Manor, to retrieve clues as to his whereabouts.
Be sure to ask Brynjolf for advice for this task to learn of Mercer's watchdog, Vald, and the special mechanism behind Mercer's home. Speak with Vex to learn more about Vald and the different ways to deal with him. Vex suggests that you speak with Maven and attempt to clear Vlad's debt; when you do speak with Maven, she sends you on a fetch quest to clear Vlad's name. As you approach Mercer's home from the back yard, Vlad will approach you. If you cleared his debt, provide him with the proper proof and he will provide you access to the home. Note: you can just kill him or fear him, then simply fire an arrow at the mechanism under the balcony for a different means of entry.


Once inside the manor, stealth or slaughter your way downstairs and find the room with the Suspicious Cabinet. Enter the cabinet and head downstairs; work your way through the tunnels but beware of the massive amounts of traps and make sure you snag the Larceny Target on the bookshelf in Mercer's Office, Mercer's plans on the table, and attempt to open the display case to retrieve Mercer's powerful glass sword: Chillrend.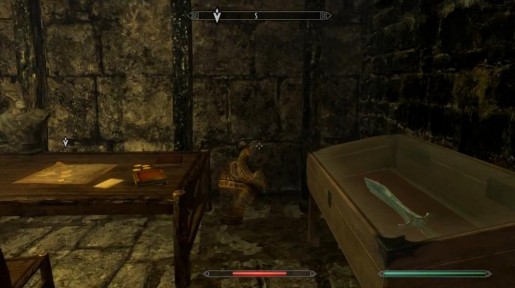 Once you have Mercer's Plans head back to the Brynjolf and give him the plans to learn of the next task, thus completing this quest and starting Trinity Restored.