Click here for more Skyrim Guides
After completing Trinity Restored, head to Irkngthand located in the mountains above Lake Yorgrim. Alternatively, you can reach this area by traveling West from Windhelm. Irkngthand is actually the exterior of a dwarven ruin inhabited by bandits.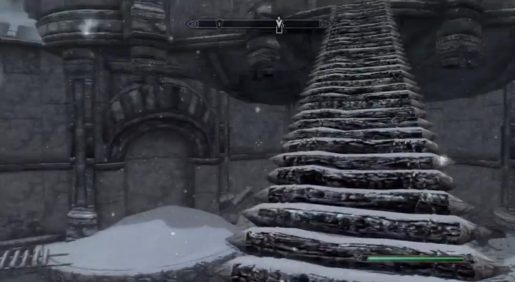 Kill everyone here working your way upwards, and you will eventually find a path leading you up some stairs and across the rooftops. Note: if you visit this location before starting this quest, the ladder bridges leading to the top will not be there.
At the top, you will find the entrance to Irkngthand Arcanex. Work your way through the dungeon, avoiding deadly traps as you do until you find the elevator leading to Irkngthand Grand Cavern. Take the elevator, and press forward until you spot Mercer down below. Note: Once you join up with Karliah and Brynjolf, you may stick with them or just run ahead. Either way they will catch up to you for the necessary cutscenes.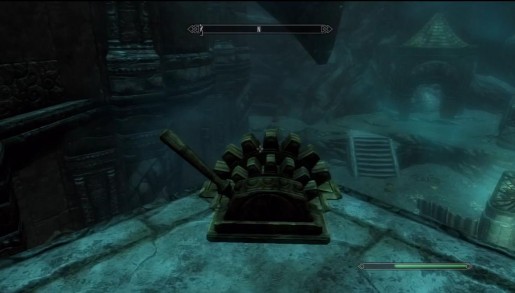 Eventually you come across a room with the exit sealed by bars with gears on either side. In order to lower these bars you must Activate the levers on both balconies over looking the room…..at the same time. If you throw one lever and just B-line it directly to the next lever you should have no problems. Note: This is an excellent place to stock up on some of the best arrows in the game. Karliah actually uses Daedric Arrows, so if you sit back and let her and Brynjolf take out all the enemies in the area, you can then scour the ground and find plenty of Arrows (I picked up about 42 arrows myself).
Continue to plow your way through the caverns the best way you know how until you reach the Irkngthand Slave Pens. Once inside keep fighting you way through watching for pressure plate traps, until you reach Irkngthand Sanctuary. Head inside for the epic conclusion of this quest. Note: Make sure to bring one of the Massive gems back to Delvin as it is a Larceny Target.
Once you have done what needed to be done, right before the Sanctuary completely floods, some rocks will crumble revealing your method of escape that will lead up to the Shores of Lake Yorgrim. You now have the Skeleton Key of Nocturnal (an unbreakable lockpick/quest item) and the Nightingale Bow (a leveled bow that deals both frost+shock damage, as well as slows opponents. Now begins the final quest of the Thieves Guild: Darkness Returns.