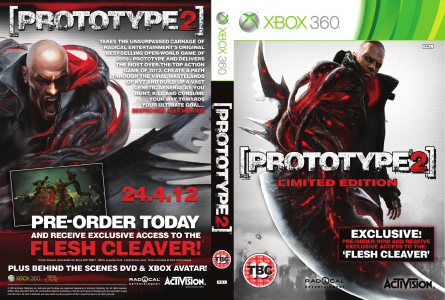 Not only do we have a picture showing off the limited edition box art for Prototype 2, we now have solid information regarding its contents.
While a price point hasn't been given, we can confirm that Limited Edition buyers will receive the following:
– Flesh Clever move/ability for Heller
– Behind the Scenes DVD
– Xbox Avatar (360 only)
Since this is the box art for the Xbox 360, we aren't sure what the PS3 will receive in place of Xbox avatar content. My guess is that it'll either be extras in Home or a PS3 theme.
Here is the summary found on the back of the box:
"Takes the unsurpassed carnage of Radical Entertainments best-selling open-world game of 2009 – Prototype- and delivers the most over-the-top action title of 2012. Create a path through the viral wastelands of NYZ and build up a vast genetic arsenal as you hunt, kill and consume your way towards your ultimate goal…killing Alex Mercer!"
You can pick up your limited/regular copy on Xbox 360, PS3 or PC on April 24th in NA and April 27th in EU.
Prototype 2 Limited Edition Revealed

,