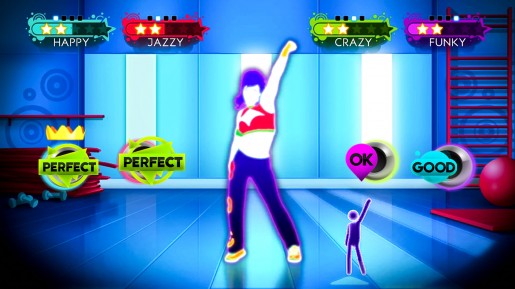 Ubisoft has announced new DLC for Just Dance 3 called the "Just Sweat Packs". These new songs are more upbeat allowing you to stay in shape and have fun doing so.
These "Just Sweat Packs" will be downloadable via the Just Dance store from January 17th on Xbox 360 Kinect for 480 Microsoft Points. The Wii pack will be available January 18th for 600 Wii points.
Here's all the songs you get as outlined on the press release:
"The DLC packs include all new dance tracks by the Sweat Invaders: Beat Match Until I'm Blue, Touch Me Want Me, Dun N Dusted, Cardiac Caress, Merengue and Boomsday. All the tracks will have you breaking a sweat on the dance floor!
These new tracks join other Just Dance 3 DLC songs available on Wii™ such as Anja's Baby Don't Stop Now, Studio Allstars' Jump, Olé Orquesta's Jambo Mambo, The Girly Team's Twist And Shake It, U Can't Touch This and Soul Searchin by Groove Century and In the Style of Irene Cara's Fame, and also the Mario DLC, each priced at 250 Wii Points.
There are 19 other DLC tracks, including Cosmic Girl by Jamiroquai, Satisfaction (Isak Original Extended) by Benny Benassi and Baby Girl by Reaggaton, available on Xbox360® Kinect."