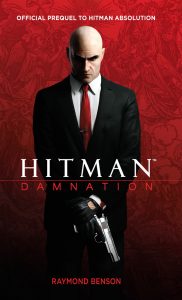 Book publisher Del Rey has announced that Hitman: Damnation will be available at bookstores this summer.
The novel will take place between the events in Blood Money and the upcoming game, Absolution. Agent 47 is working in the US and has been tasked with eliminating certain political figures. Unfortunately, everything doesn't go as planned. Being the alert and intelligent killer he is, "he notices that some aspects of the mission don't add up as he is plunged into a web of lies, deceit, and murder."
If that doesn't have you interested, then maybe this next piece of information will pull you in. Raymond Benson is writing up the latest Hitman novelization. In case you are unaware of his previous work, he is known best for his work as the fourth official James Bond novelist. He has also worked with other popular titles such as Metal Gear Solid and Tom Clancy's Splinter Cell.
Be sure to look out for Damnation this summer and Absolution some time later this year.