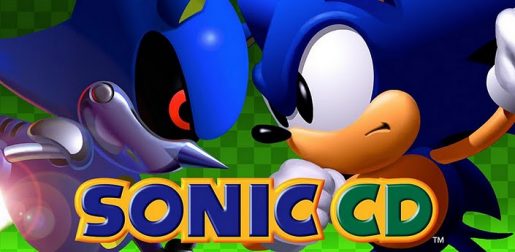 For ages it seemed like Sega had forgotten about its short lived Sega CD and with it Sonic CD. Having only seen a PC re-release, in addition to having a spot in the Sonic Gems Collection; it appeared as if many gamers would have missed the chance to enjoy this title. Sega however shocked fans by starting a small Sonic CD marketing campaign which ultimately led to a digital re-release. However, was the game worth the wait? Are nostalgia glasses required to enjoy this game or is it one of the best in the series?
Find out as we take a look at the HOTs and NOTs of Sonic CD.
Hot
Innovates the Sonic Concept
Sonic CD starts with Doctor Robotnik in control of the world. He achieved this by creating a Metal Sonic who altered the past. This is also the basis for the uniquely different past/future system utilized in this game. You see every act has various sign posts with the name past or future on them. By passing over one, you will be able to travel to that period, by running really fast without being stopped. However, this is where the mechanics get interesting.
Each time period has its own theme and unique design. Acts set in the future show you the grim fate the world will suffer under Robotnik's control. These are generally dark/dreary places with many enemies in addition to broken machines. Present stages are similar to previous titles in design, but the really important one is the past. Unlike the future; the past shows you a vibrant happy world full of life. Additionally, most stages feature a Metal Sonic hologram and robot teleporter. You can destroy these usually resulting in happy animals jumping around. However, destroying them also effects the future.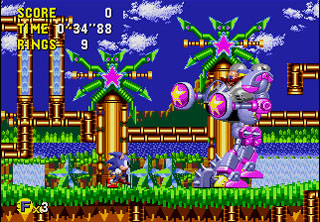 When you destroy every item added to the past (usually a teleport and hologram) the zone changes with it. With those items gone, you will obtain a message saying you made a good future for that act. Doing the same for the other act will change the boss battle. Now the good or bad future where you fight Robotnik isn't really that different. Honestly, the only change is the stage going from sickly colors to bright vividly colors. By today's standards this isn't much, although back when this title was new it's plenty.
Beyond the time mechanics, there are some other slight differences from previous titles. The biggest being the lack of Super Sonic or even Chaos Emeralds. Don't worry, there's still special stages which unlock "time stones", but they really just grant Sonic the power to change the future. Having all the stones also changes every boss battle to the good future version.
New Elements
During the porting process a few things were added to "change" the game. These don't really make it better or worse just simply different. One of them is the addition of Miles as a playable character. Another is the ability to use the charged roll (Sonic 2). They're not huge additions, although they offer some extra playablity later on.
Animated Scenes
In addition to the gameplay changes; there were some cut scenes too. Nothing fancy by today's standards, but two simple little cartoons showcasing Sonic. The real draw is their subtitle charm. Having the strong feel of the 1990s combined with the campiness makes them rather enjoyable to watch.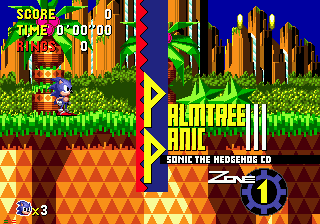 Time Attack Mode
Like most other things, we sometimes prefer one level over another. This is where Time Attack Mode comes into play. Here you can freely select any singular act you wish to play and play it without playing through the story. This is pretty cool in addition to trying to beat the game as fast as possible. Time Attack Mode also removes the past/future mechanics so the stages are more standardized.
Not
Too Easy
Platforming games have two key staples. One is that there is platforming and two its fairly precise. This can lead to some amazingly impossible challenges. For the most part, the stages are extremely basic in design. With the lack of any truly difficult challenge; you may find there's less replay values than say Sonic 2.
This being said, some of the later boss stages can be difficult on your first few tries. The Metal Sonic race for instance is very easy to fail. The same goes for the final Robotnik stage and an earlier boss battle. While these do add challenges; Sonic CD also hides a 1 up box prior to ever boss. These also respawn upon a failure, so you can constantly fail without really getting punished.
Verdict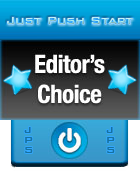 It's great to see Sega finally bringing this game out separately. After seeing Metal Sonic becoming a more reoccurring villain; it's good to have the game where he started. While there are some interesting gameplay mechanics, it's still extremely easy to beat. Thankfully the level designs more than make up for this short coming. This is a definite must for any Sonic fan that hasn't played the game previously or someone looking to give Sonic another go.
[Editor's Note: Sonic CD was reviewed on the Playstation 3. The game was provided to us by the publisher for review purposes.]
Sonic CD Review

,