Back on the Nintendo DS, Majesco brought us Nanostray and now they're back on the Nintendo 3DS title with the follow up title, Nano Assault. For fans that enjoyed Nanostray, one of the features that Nano Assault implements is 3D visuals which help to improve the overall design of the game. Contrary to the original where you shot ships, players will now need to fight off microscopic enemies (Virus, Plagues, Infection) that plague a cell.
Considering the Nintendo 3DS lacks a wide selection of games right now, is picking up Nano Assault a wise decision? Is it any better than Nanostray? Let's take a look on what's HOT and what's NOT in our review of Nano Assault.
HOT
Impressive Visuals
In terms of the visuals, Nano Assault looks phenomenal. Throughout the multiple levels found in the game, players can expect to go through different kinds of cell clusters which include various kinds of tissue, a hair follicle and other microscopic organisms found inside the human body. People in the medical field, scientists or anyone just interested in biology will be astounded by vibrant colors and beautifully crafted designs. This is also enhanced when you enable the 3D. As for the depth of the 3D mode, players will be able to experience the game at the maximum setting without having to worry about an eye strain.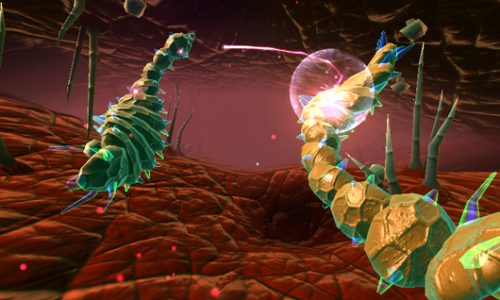 Pick Up & Play Arcade Mode
The best part about Nano Assault is that it's easy to pick up and play. Throughout the vast selection of stages that are available in the game, players can simply choose a level and go right ahead on a quest to eliminate the deadly virus. Think of this game as an arcade where you can simply just shoot your way through. At the end of each level there's a chance that you might get a part for your Nanite ship, which can be used to upgrade your weapon. As you progress, this will become more important as some enemies will only die to a specific weapon, but thankfully there are several ship upgrades out there to assist your needs. In addition to ship parts, viruses also give you some kind of money, this can be used to unlock goodies in the Nano Shop, which you unlock later on.
For every cluster that players finish, there will be a boss awaiting your arrival. I personally found fighting the bosses in Nano Assault to be one of the most enjoyable moments. The bosses can be difficult at times, but what makes them good is how they attack and how large they can grow. If at some point you wish to revisit these bosses, there will be a Boss Rush mode that is unlocked after meeting a certain requirement.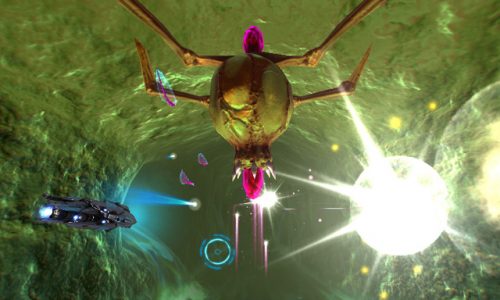 Affordable Price!
Due to the holiday season, many gamer's will be looking for more affordable titles. Considering most 3DS games fall in the $30 – $40 range, Nano Assault blows them away with a $20 price point!
NOT
Wheres the story?
Nano Assault offers you a story mode, but there really isn't much to be found. You're given a brief background that players are on a microscopic nanite ship, here your objective is to go through the different clusters and purify them by taking out viruses. As you progress though the various clusters, don't expect much more of story here. It makes very little sense to have a story mode when it's not even utilized, this is further stressed when you consider there is already an arcade mode included.
Unbalanced Difficulty
The objective of Nano Assault may be simple at first, but as you go to the different levels of the game the difficulty can increase extremely fast. This gets so bad that even easier difficulties can be rather stressful. Due to this it may make the game far more annoying  than it should be. This can easily lower your overall enjoyment too.
VERDICT
By now you should have known that Nano Assault isn't the direct sequel to Nanostray, which was released on the Nintendo DS, but rather than the spiritual successor. Nano Assault is a solid title that offer fans strong shooting mechanics and impressive visuals especially in 3D. Despite the game's shortcomings on the story mode, fans of the original Nanostray will not be disappointed, especially at it's low price point.
[Editor's Note: Nano Assault was reviewed on the Nintendo 3DS. The game was provided to us by the publisher for review purposes.]
Nano Assault Review

,