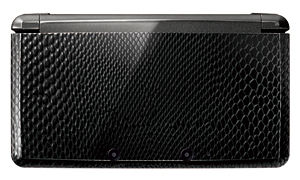 A special Metal Gear Solid 3DS hardware system was revealed on Hideo Kojima's twitter the other day. Kojima Productions have now released a full picture of the system.
Although as you can see, the picture is rather small but it shows how unique the 3DS looks like. The exterior has scales much like a real snake has. Too bad Kojima did not release anymore pictures of the device…
Further details about the Metal Gear Solid 3DS hardware are to be revealed January 20th. The Metal Gear Solid 3DS will be bundled along with Metal Gear Solid: Snake Eater 3D when it hits in March.
Metal Gear Solid 3DS Hardware Revealed

,