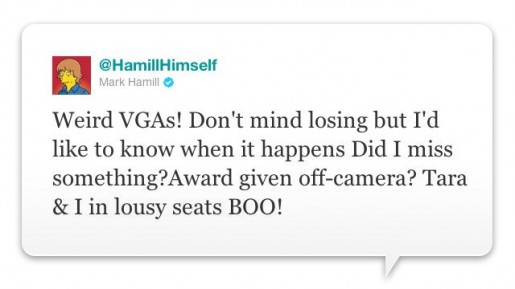 Not a lot of people are happy with the VGAs. Charitably, it could be called a somewhat below average awards show with an over-abundance of advertisements. Realistically, it could be called an embarrassment and an washable black stain on the gaming community only furthering a negative stereotype and choosing flamboyance and advertisement over grace and recognition of the greatest minds in the business.
If that sounded harsh and unnecessarily mean, well, apparently I'm not the only one complaining.
Above is Mark Hamill's comment on the awards show as a whole. To fill you in, he lost to Stephen Merchant for best video game voice actor, Hamill reprising his role as The Joker from Arkham City and Merchant blowing onto the scene with a stunning performance as Wheatley from Portal 2.
If you watched the awards show and weren't even aware of this category, well that's the point. The winner was announced in passing and the nominations weren't mentioned.
Tara Strong (who played Harley Quinn) lost to Ellen McClain reprising her role as GLaDOS from Portal 2 was also not happy. Both claimed their seats were horrible and especially bad since the two weren't even mentioned.
"VGA awards r just a big commercial!" said Strong on her Twitter feed.
What are your thoughts on the VGAs?
Mark Hamill, Tara Strong, Not Happy At All With The VGAs

,