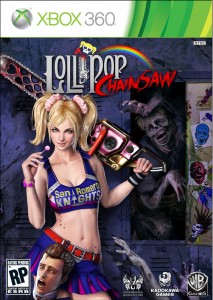 Warner Bros. Interactive Entertainment and Kadokawa Games have now released the official cover art for the upcoming game, Lollipop Chainsaw.
The game stars a "Britney Spears" lookalike cheerleader by the name of Juliet Starling. She's no ordinary little girl as she is a deadly Zombie hunter. Lollipop Chainsaw is similar to Dead Rising as Starlet has to survive the Zombie outbreak while at the same time try and figure out why it happened in the first place.
Lollipop Chainsaw is due out sometime in 2012 for the PS3 and Xbox 360.
Check out the cover art below: