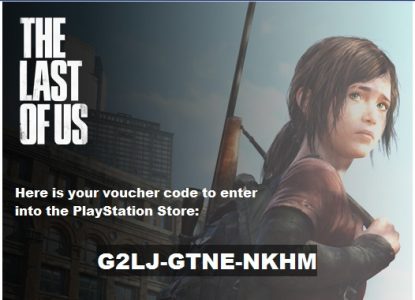 It's hard to believe that a few weeks ago no one was talking about The Last of Us, but Sony has done a great job in keep people interested. With this weeks store update we saw avatars and a static theme, though did you know theres also a dynamic theme? Currently you can head to Facebook, where for liking a page you can get your own The Last of Us dynamic theme. If that's not your thing, then you're in luck. The code listed above is multiuse so you can also get the theme like that,  though I strongly suggest at least showing your support.
Additionally if you're not in the US, Europe based The Studio is doing a similar giveaway. If you head to their Facebook you can obtain a code for the Christmas advent calendar theme. If you're not into Facebook, then you can also use this multiuse code "P3AM-KBNG-6F4A".
This is definitely a cool theme to have as each December day has it's own little design. After the holidays it also has it's own design too. The final design is a skateboarding sheep which is simple awesome.
Finally Playstation Japan recently added four free Dark Souls themes. Each of these are Dynamic and different than the one currently listed in the US store. You can find a video of them all below.
If any of these interest you, then you can follow our guide below to get your very own set. (Guide starts with image 2)
Free The Last of Us Dynamic Theme and More

,