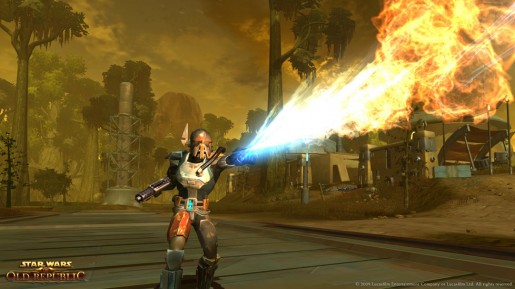 Star Wars: The Old Republic hits store shelves in less that twelve hours in some parts of the world and even though the game is only available to those who have early access, logging onto servers have reached over an hour in wait time.
This has many gamers quite worried because once the game launches worldwide, will we start seeing two and three hour wait times? Well, according to Jeff Hickman, Executive Producer of Live Services for Star Wars: The Old Republic has addressed the issue directly with a recent blog post:
We know there have been questions about the queues on the servers, so we wanted to take a moment to give you some insight.
In order to ensure that the service would be smooth and stable, we staged how we brought people into the Early Game Access program, adding people in waves. As you know, there are a lot of folks who want to play the game right now and we want to make sure they have lots of people to play with. Balancing this with figuring out when to bring new servers online to help alleviate the size of the queues is part art and part science. On one hand, you do not want people to wait too long – on the other hand, you want to make sure that people have a dynamic, engaging community to play with for long after launch. Either way, we have one clear objective – to make sure folks have fun.

While we can't promise that there won't ever be queues, we can promise you that we are taking this matter seriously and constantly reviewing them to make sure that they are manageable and reasonable.
Hopefully this means that, even though we may always have a queue in some way shape or form, we won't see servers so empty that it's nearly impossible to put together a group for end-game content.
Bioware Acknowledges Star Wars: The Old Republic Queue Time

,