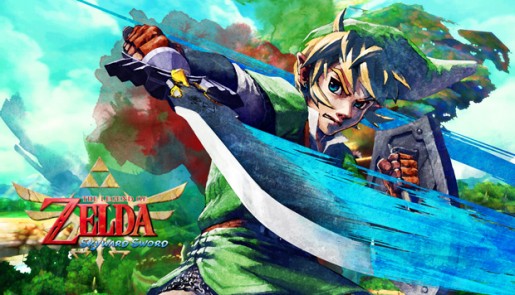 The Legend of Zelda is a story that has been told for decades, starting 25 years ago with Nintendo's first venture into the video game console industry: the Nintendo Entertainment System. Over the years we have seen many amazing Zelda games over a multitude of different platforms both portable as well as home systems. The Legend of Zelda: Skyward Sword opens to a world above the clouds, known as Skyloft, where their is no knowledge of the surface world below. In Skyloft the main form of transportation are large bird-like creature called Loftwings, and everyone has a special bond with their own specific Loftwing which can be called on to ride throughout the skies above the clouds.
With The Legend of Zelda: Skyward Sword having so many changes and unexplained plot points, is discovering whether or not this game is a prequel to Ocarina of Time worth breaking out the old Wii? Today, we will find out as we go over what's HOT and what's NOT in The Legend of Zelda: Skyward Sword.
Hot
Engaging Story
In Skyward Sword you play as Link in his teenage years and after a tragic event occurs, you must find and rescue Zelda, as well as cleanse the surface world from an evil that has risen. Throughout your travels in the "Surface" world, you will see many familiar scenes and fans of the series will quickly realize that this is the Hyrule we know so well from The Ocarina of Time. What is even more interesting is that Zelda is without her Princess title for the first time, and players will notice many extremely interesting differences. These differences make Skyward Sword unique from every other Legend of Zelda game in the franchise. Other differences we learn of before leaving Skyloft include the fact that Link is, for the first time ever, not left-handed, and that the name of his Sword is different this time around.
Motion Plus works extremely well
Despite an embarrassing display of gameplay during E3 2010, the Wii Motion Plus (which is required to play) actually works quite well. When you first get a sword, you are required to go through a training exercise to teach you all about the 9 different basic sword slashes (not counting the spin attack). It is extremely easy to hit the ground running, especially if you are a seasoned Zelda fan. Mastering the combat mechanic does take some time though and there are several times enemies in the game require perfect technique if you want to get past them.
Graphics
The Legend of Zelda games are always marvelous canvases to adore, and Skyward Sword is no exception. With what seems like a cel-shading art style, the realistic features of both characters as well as enemies keeps you engrossed in the game. Personally, I did prefer the realistic art style of Twilight Princess over the cel-shading of Windwaker, but Skyward Sword seems to take the best of both worlds. Enemies will taunt you mid fight, while NPCs will demonstrate exasperation when you decide not to buy an item from them. Even looking out into the distance has been given a look of impressionism instead of just clipping out.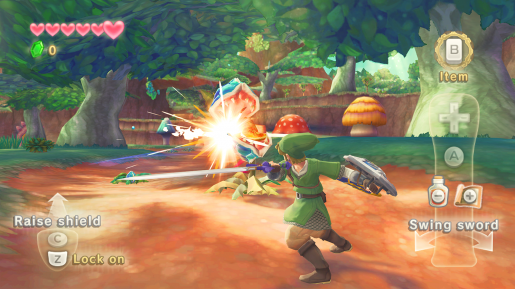 Dungeons and Puzzles
It would come as no surprise that Skyward Sword would include dungeons, nor would it surprise anyone that there are puzzles included in these dungeons. What was surprising, was the fact that unlike previous Zelda games (such as the forest maze in Ocarina of Time), there were no overbearingly difficult puzzles. If at anytime a puzzle does seem unsolvable, it is only because the player is over thinking things and simply needs to take a step back to ensure that the solution will simply come to them.
Game Length
One of the aspects that I loved the most about Skyward Sword is that the game is a deceivingly robust title. There are anywhere from six to nine different dungeons depending on your definition; some dungeon bosses feel more like a mini boss than a traditional Zelda dungeon boss. Even if you were to completely ignore all side missions, mini games, collectables, and rupees, it may be possible to complete the main story questline in about 30 to 40 hours. During my first playthrough, at twenty hours deep, I had only cleared the second dungeon. The entire time, even though I had to revisit some areas, not once did Skyward Sword feel repetitive.
RPG Elements
This iteration of the Zelda series introduces Link to some new elements such as spending items to improve his tools. These items can be found either whilst traversing the land or are dropped by enemies, and the joy that is felt after learning where to get that one last ingredient needed for the final shield upgrade leaves you wondering why these RPG elements are only now making it into the Zelda series.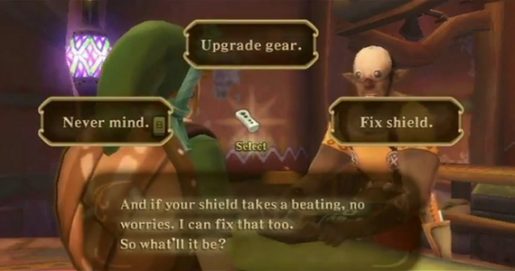 Another new RPG element is the addition of conversational choices. Depending on whom Link is peaking with, there can be up to three different choices; and while these choices do not have a direct impact on the outcome of the game itself, these allow gamers to encounter some very comedic dialogs.
Not
Lack of Voices
There are two groups of Zelda fans when it comes to whether or not new Zelda games should have voice acting. At times Skyward Sword did feel a little dated due to the lack of voices but to be perfectly honest, the game still held that nostalgic feel that kept this element from truly feeling like a negative thing.
Verdict
The Legend of Zelda: Skyward Sword is a must own for anyone who is a fan of the series. It does not matter if Twilight Princess was your first introduction to the series or if your first time meeting Zelda and Link was 25 years ago. This game will have you playing it for hours on end, and when you are not playing you will find yourself constantly thinking about it. The familiar formula of collecting and dungeon conquering still holds true and remains a powerful formula for the series; the Wii Motion Plus demonstrates to what levels a game can depend on motion control accuracy, and the new RPG elements of the game will have you scouring the web, or jotting down your own notes to ensure maximum upgrades.
[Editor's Note: The Legend of Zelda: Skyward Sword was reviewed on the Nintendo Wii platform. The game was provided to us by the publisher for review purposes.]
The Legend of Zelda: Skyward Sword Review

,