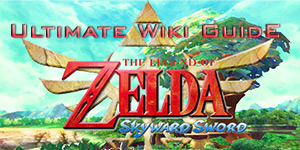 One of the greatest features of the Legend of Zelda series are the epic boss battles that always leave you stumped and scrambling for your keyboard to scour the internet for answers on why, no matter what happens, you simply can't seem to damage this boss. Well look no further fiends because we have all your boss battle needs right here at JustPushStart.
Demon Lord Ghirahim
The first time you face a boss in The Legend of Zelda: Skyward Sword, you will notice an extreme emphasis on the importance of knowing exactly where and how to swing your sword. Boss battle #1 will occur when you reach the end of the Skyview Temple, and while this is your first time encountering Ghirahim, it will most definitely not be your last.
NOTE: In this fight, Shield Bash is your BEST FRIEND. If you have mastered the shield bash technique (shaking the nunchuck to deflect attacks) this fight becomes exponentially easy. That is not to say that the fight requires shield bash to win, it's just much easier.
The first Ghirahim fight has two phases.
Phase 1:
He will start the fight walking slowly towards you. Notice the big circle on the ground? Keep in mind that the further from the center Ghirahim gets increases his likelihood of teleporting back to the center. He also has the ability to predict which angle Link will attack from by looking at the angle you are holding your wii remote in order to catch Link's sword between his fingers. When this happens be sure to shake the nunchuck and wiimote as fast as you can to get your sword out of Ghirahim's grip; if you do not, Link's sword is taken and used against him. If this happens simply use your shield bash when Ghirahim attacks in order to knock the sword out of his hands and onto the ground so that you can reclaim it. Landing hits on Ghirahim during this phase is a little tricky as you must trick him into thinking you will attack from one direction and then slash at him from the opposite direction.
Phase 2:
Once Ghirahim has received enough damage he will summon his sword. He also gains the ability to summon flying daggers that he sends toward you lined up like one of Link's Sword strikes. There are several ways to handle this attack: dodging to the side, striking in the angle of your sword strike that corresponds to the daggers alignment, or simply shield bash them. Ghirahim can also lunge toward you with his sword now, which you can either dodge (can be difficult at times) or again, simply shield bash. Either way this is the moment to best counter attack as he will be vulnerable after her misses or is shield bashed. If you couldn't already tell, I recommend shield bashing because the window for counter attack is greater than if you simply dodged his attack.
NOTE: Skyward Strikes will not work on Ghirahim as he will simply dodge the attacks. We acknowledge that this is not the only way to win this boss battle, it is merely the strategy that we found to be easiest.