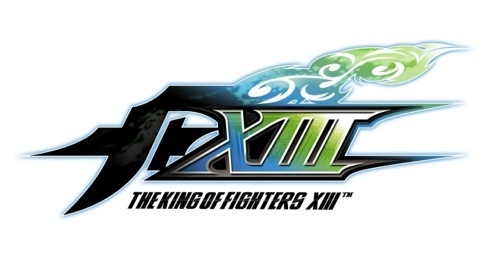 The King Of Fighters, most people don't know, is actually a cross-over fighting game made up of two SNK fighting franchises, Art of Fighting and Fatal Fury (Garou) with some spare and original characters added. Since having gained a life of its own, King of Fighters has blossomed into its own series, but never enough to blossom out of the shadow of its contemporary and competitor, Street Fighter.
King of Fighters XIII aims for two things, to simplify and revamp its fighting system and to perfect the mechanics that preceded this iteration. With the Street Fighter franchise becoming bogged down with cross-overs, expansion packs and fanservice, is King of Fighters finally ready to take up the fighting game crown? Read on to find out the HOTs and NOTs of King of Fighters XIII!
HOT
Aesthetics
King Of Fighters XIII is an absolutely gorgeous looking game. Where Street Fighter IV and Mortal Kombat head into three dimensions for their two dimensional game and games like BlazBlue and Skullgirls polish up their sprites, KoF XIII is by far some of the best looking and best animated sprites in gaming history. Not content with simply looking like an interactive, fighting game animated cartoon, King of Fighters goes entirely out of its way to look even better than the average cartoon and put fluid animation into each frame.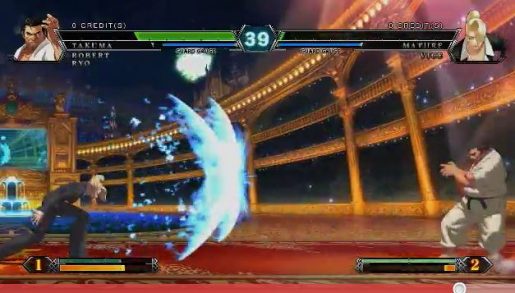 Included are some incredibly well done backgrounds that showcase some unforgettable character, such as the return of the screaming fat women stage from King of Fighters XII. Each stage has its own color scheme, own sense of grandeur or atmosphere and its own lighting effects to draw the fighting characters into the stage, so no stage feels interchangeable. Trading fisticuffs inside a noontime city dojo with light spilling into the wood paneled room is an entirely different experience to trading fisticuffs inside a broken arena where hellish light floods out from a gate to God-knows-where and the darkness rises at your back.
Needless to say, with all of the effort put into the sprites, the backgrounds and the way the sprites flow with the background, it's easily one of the best looking fighters out there.
Well Rounded, Complete
With an array of new moves and characters, King of Fighters XIII puts its predecessor number XII to absolute shame. With more modes than most SNK fighting games care to submit to, KoF XIII is a complete package, ranging from a tutorial mode, separate arcade and story modes, 3 separate kinds of trial modes including separate trials per characters and versus mode allowing for 1 on 1 and 3 on 3 matches, all revolving around King of Fighters' team-based fighting.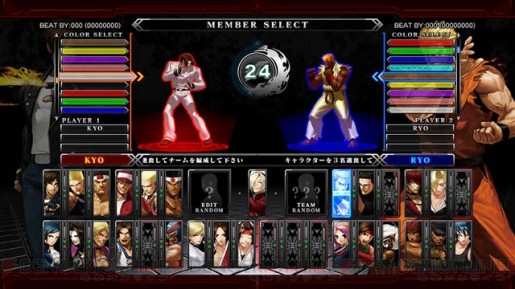 Speaking of the team-based fighting system, other games have tried tag team fighting before, but King of Fighters has had it from the start and, like Marvel Vs. Capcom or Tekken Tag Tournament, your team is what makes you unique. Ever character has a balanced enough feel to where you won't just find one character to suit you, you will definitely find 3, or maybe 4 and have to face a tough decision on who to leave out. Eventually, your character team builds to your liking and you're left with a fighting style all your own. It's a well rounded fighting game with enough variety and balance to remain constantly interesting.
Smooth, Skillful
In an interesting case of a developer learning from its mistakes, and mind you, there have been mistakes that have lasted for years in King of Fighters, Atlus/SNK simplified the system instead of actually bogging it down with even more moves per character and crazier special attacks. Where some classics may have been removed among the special attacks and super special attacks, in its stead is accessibility and a system that allows for easy experimentation. Where previous entries in the series had characters with pages among pages of special attacks and increasingly cryptic special move abilities, each character has an average of 4-6 special moves, a super move or two and a NEO MAX move for ultimate obliteration.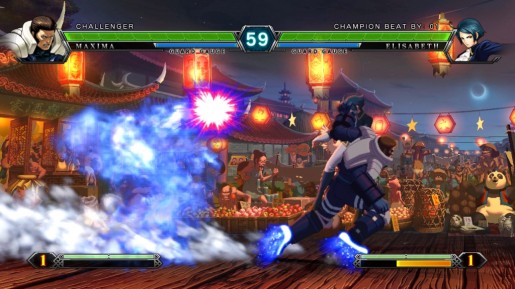 That said, the implementation of these abilities and moves has never been better. King of Fighters, for as classic as it is, has always been on the stiff side of fighting games. It all changes here as we have one of the most buttery smooth fighters in recent memory and definitely the most polished game in the entire series. Movement feels fluid and reactive, special moves flow more smoothly into combat than before and the rolling system allows for deceptively deep gameplay, where two fighters can toss attacks at each other for several seconds into an almost hypnotic rhythm until a blow is finally dealt.
King of Fighters goes out of its way to eschew its own traditions and patterns to give a fresh, accessible experience that can be picked up by anyone who's ever thrown a hadouken and mastered by anyone who's ever attempted a "MAX Cancel". What was stable and fundamental in King of Fighters has finally been perfected and the roots and core of this fighting engine has been polished to a mirror shine.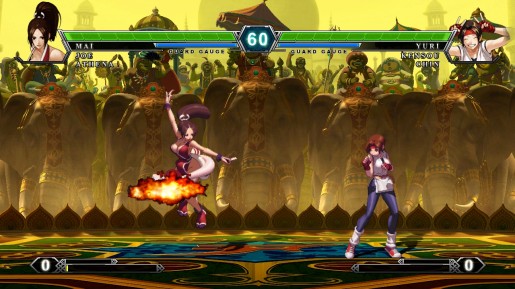 Soundtrack
With all copies of King of Fighters XIII comes a four disc soundtrack, and while it's not a rushing symphony that celebrates its history and heritage with tear jerking emotion, it carries a lot of classic tracks and has music all the way back to the first game, King of Fighters '94. Where casual observers and new players to the series may stick to disc 4 with all of the contemporary tracks, this is a vestigial addition meant for fans of the series. Fans, however, will be very pleased, and it's an extremely thoughtful addition if nothing else, as if to be a thank you note for sticking with SNK through the travesty of King of Fighters XII. You're welcome, Atlus/SNK.
NOT
Story
Where critics bemoaned the lack of story in King of Fighters XII, it returns in full force here, in all its entirely incomprehensible glory. It assumes you're entirely aware of the King of Fighters timeline and, while it may be interesting and a point of intrigue to those caught up in KoF's absolutely bonkers storyline, it's a bit of a mess. The story mode does all it can and the well animated (when there is animation) and colorful cinematics do a lot to ease the pain. The game isn't going to help you find out who Mukai is and why Saiki kills him, whether Rose Bernstein is a good or bad character and whatever other questions you may have.
It's nice to see the characters back and actually exhibiting character, but it'd be nice if the game could slow down and explain itself for a second.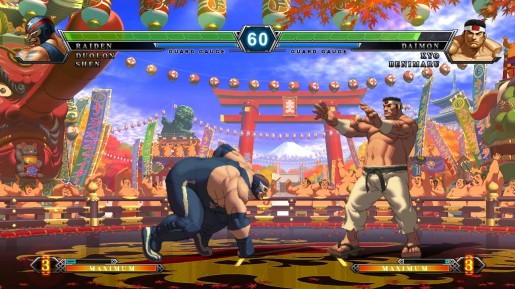 Bare Bones Online Support
You'd be hard pressed to say that a fighting game can live to more than its fighting mechanics and all of the glittery modes and mini-games in the world don't come up to much in the end. King of Fighters has a solid core and it's enough to hold itself up.
That said, it would have been nice to see a little more polish afforded to the online play. Where the netcode is absolutely solid and lagging is kept under control, it'd be nice to see more than Ranked Battle and Player Battle. You can choose a profile team for easy selection and you can choose a pre-determined icon and message, but that's the entire experience. This is a game where you'd do much better to bring a few friends over to play.
Not Exactly A Leap Forward
King of Fighters XIII, as said before, is content with taking its fundamentals and perfecting the triple-headed blade of its 3-on-3 combat until it could slice through metal, but it does very little to advance the series. Not a lot can be asked of a 2-person fighter, mind you, but it doesn't advance its medium and it doesn't bring setpieces or stories or experience into any new levels of immersion or interactivity.
Its visual-novel style cinematics look very nice and they have a nostalgic Neo-Geo feel to them, but it's devoid of newness. What it does, it does really well and it's among the best of the best, but at the end of the day, it's still an arcade game without aspirations to innovation or beauty. This iteration is exactly what the series needed to remain in the competitive market, but other than its visuals, it's not trying to push the envelope in any way other than its visuals and make up. Far enough removed from the mainstream market, King of Fighters XIII has the potential freedom to innovate and try something entirely new, but the opportunity is passed up.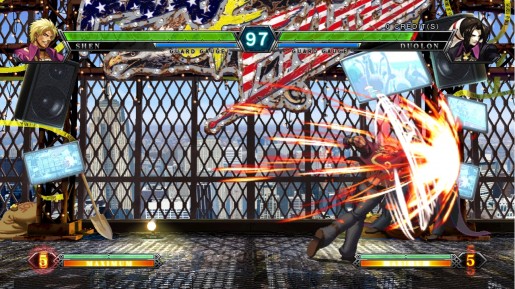 VERDICT
King of Fighters XIII is a game for fighting game fans. If you only have a passive interest in fighters, it offers little here that can't be found elsewhere, the thrill of the fight and a well balanced system. However, if you're looking for an excellent fighter and are in the market for a game that will show you how fighters can use simplicity to their advantage and to see some of the best 2D visuals in gaming today, KoF XIII can't be passed up. Those in the market for a game to just pass the time or for a night of combos and special moves can find them elsewhere, but to the connoisseur, King of Fighters is the vessel for a truly hardcore fighting experience. At the end of the day, you'll be saying it's good to be king.
[NOTE: King of Fighters XIII was reviewed on the Xbox 360 hardware. The game was provided to us by the publisher for review purposes.]
King of Fighters XIII Review

,