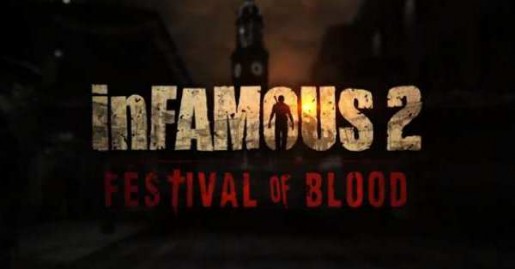 Sometimes games are just easy to do and infamous Festival of Blood is one of them. All of the tasks will basically come with time, but best of all require minimal effort. Just about anyone can 100% in around 6 hours. The following guide will try to make things as simple as possible!
Bronze
Count Dra-Cole-a
Unlock all powers.
Strategy: All powers are obtained through doing other trophies. The following list will make it easier on you.
80 (?) steaks is the last steaking power.
10 UGC missions will give you all of those powers.
5 Mary's Teachings will give you the upgraded Vampire Sense.
10 Stealth Steaks will unlock those powers.
All powers come prior to trophies, so you should just get them along the way.
Stakehouse
Steak 20 hidden firstborn vampire's.
Strategy:  The 2nd required UGC mission forces you to kill them. This is a fairly simple process and is extremely easy. In Vampire Sense mode you can see through people. If they're red,  they're human. If they're black, that's your target. Once they're found, walk up to them and push triangle. This will instantly kill them.
Image of a hidden firstborn: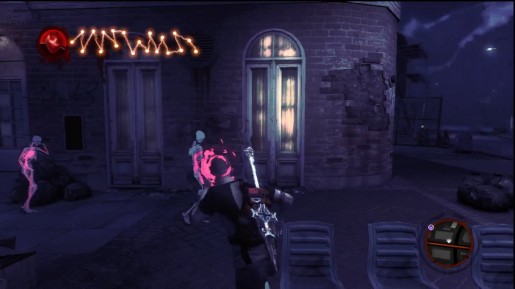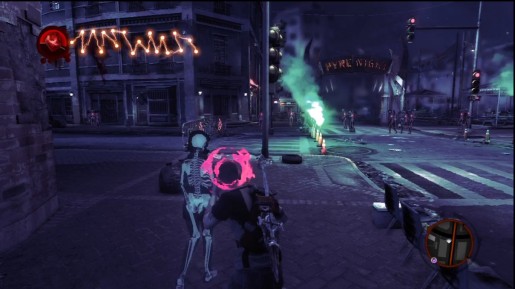 Blood Bank
Collect half of the Canopic Jars.
Strategy: See "Blood Junkie".
Flight Night
Stay airborne for 250 meters while in Shadow Swarm.
Strategy: Shadow Swarm is the bat skill (Up on the dpad) and can be tricky to gauge. Due to this, I strongly suggest just maxing it out first. To actually perform it; find an open area, then go straight. It should appear when you hit the ground.
Bite Club
Bite 100 Civilians.
Strategy: Do this prior to starting the story. This is the best time since there shouldn't be any newborn. Anyways to do this, simply walk up to someone and push R1. Rinse and repeat 99 more times.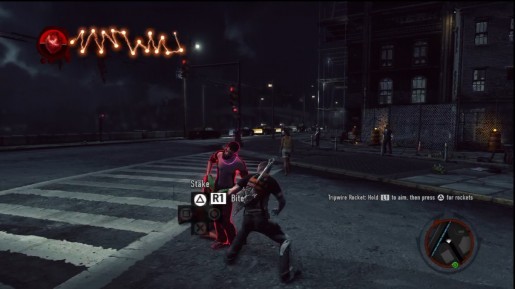 Underground Tour
Return to the underground while no mission is active and travel from one end to the catacombs to the other.
Strategy: This sounds harder than it truly is. After UGC mission 2, you should be by the park. This place should have a cross on the map (including large). This indicates an entrance. Walk to the cross and abort any mission you might be doing. Once down there, jump on the rails till you see a tower. This is the other side. Once you touch the door, the trophy will pop.
Map: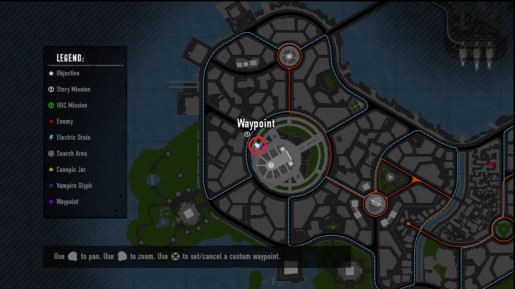 In game view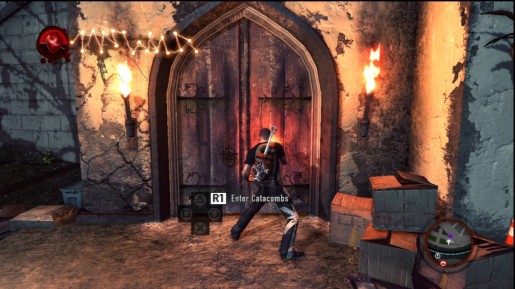 Exit: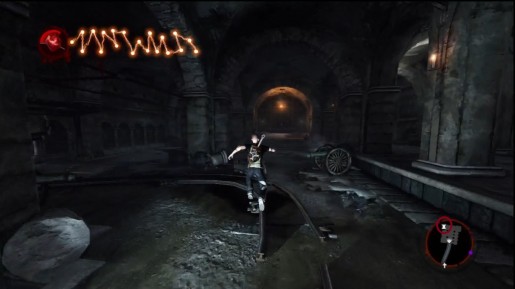 Raising the Stakes
Stake 100 Vampires.
Strategy: After you defeat a vampire, they will appear as an X on the map. Walk up to them and push square. This will count as one stake.
Hindenburg Complex
Destroy a balloon.
Strategy: Some buildings will have a demon face on top. These are the balloons. You can destroy them or wait till the end of the game. After finishing Bloody Mary, the game will spawn you in front of one. You can simply turn around and pop it.
Demon Balloon: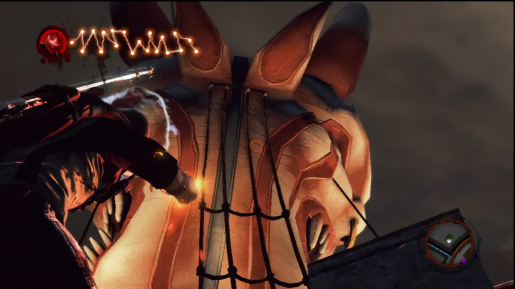 Dinner Theater
Bite a member of a street parade.
Strategy: This should happen by accident while just biting people. If not look for people going way over the top. These are your performers. Simply bite one and wait for the trophy.
Street Parade member: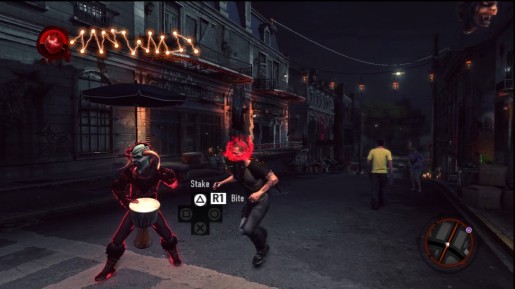 Give Them The Fanger
Clear out 20 Vampire packs.
Strategy: Vampire packs are like gangs in 2. You just need to look for the mini map icon and kill them. You don't have to steak them, but it helps that trophy go faster.
Mini map icon: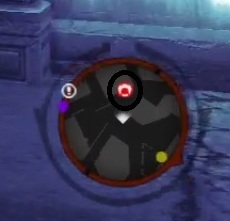 Play.Create.Scare.
Play 20 Festival of Blood UGC Missions.
Strategy: Just keep playing them till it dings. There is no fool proof method as too many missions are out there. Redoing the same mission also won't count. If you're having problems finding them, they're green icons on the map.
Silver
Blood Junkie
Collect all Canopic Jars and max out your blood meter.
Strategy: Unlike previous installments, Sucker Punch made them far easier to find. I would strongly suggest waiting till you get the Vampire Sense ability (R2). In this form they will have an aura around them. I would advise also finding 5 of Mary's Teachings prior. These will show you at least one on the map constantly.
Normal: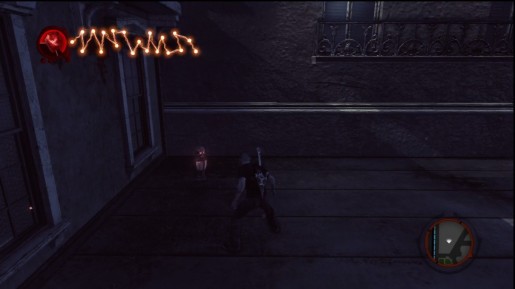 Vampire Sense: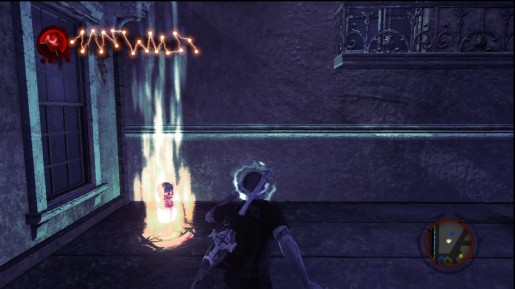 Map: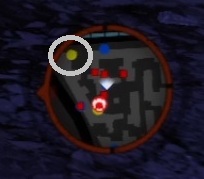 Bleeder's Digest
Discover all of Mary's Teachings.
Strategy: These are found by locating arrows in Vampire Sense. Make sure you stay in the city, as most out of town ones are for human gatherings. The human gatherings have no barring on this trophy. There are 10 total and one ability to gain.
Mary's Teaching: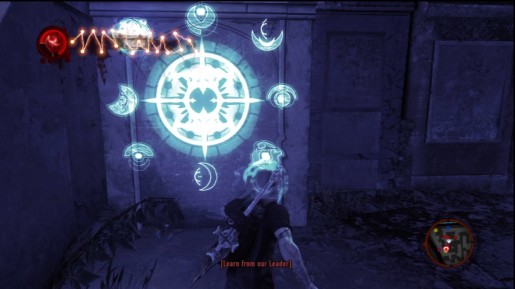 Gold
Fangs for Playing        
Defeat Bloody Mary.
Strategy: Bloody Mary is the games end boss and is the point of mission 7. She is extremely straight forward. This whole fight can be won by constantly rushing her.