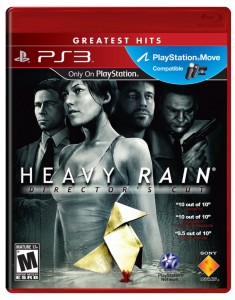 Heavy Rain: Director's Cut will be available purchase next week, November 8th, in the US. This news comes from straight from SCEA. The Director's cut includes quite a bit of content.
Here's what you can expect:
"- Complete, original game, Heavy Rain
– Heavy Rain Chronicles: Episode 1 – The Taxidermist DLC
– Heavy Rain Original Videogame Score by award-winning film and television composer, Normand Corbeil (16 tracks)
– New front-end menu and interface with built-in Move support
– A series of 8 "Making of" Bonus Videos
– Three Dynamic Themes (Heavy Rain, Heavy Rain ARI Forest, Heavy Rain ARI Mars)
– 15 additional pieces of new concept art
– 2 bonus Trailers (Thank You Trailer, Love Trailer)"
Even better, all of this can be yours for the low price of $29.99. This is a steal for those who haven't given this unique title a try yet. Unfortunately, UK gamers may not have the same opportunity. Hopefully they'll announce a UK release soon.