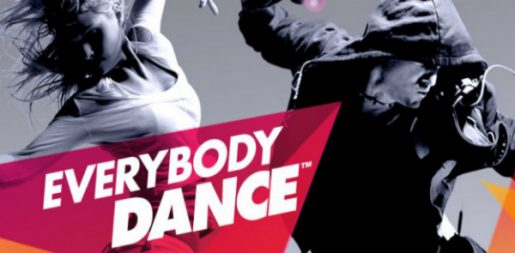 Recently the game industry has changed a lot. As it evolved there was a growing need for more gamers. Around this time Nintendo came up with the Wii. This system gave birth to casual gaming and with it many new genera's started to appear. One of them is the extremely unlikely dance genera, which previously was just Dance Dance Revolution. Naturally Sony has stepped in to bring an exclusive dance game known simply as Everybody Dance.
With a growing genera, does this game innovate the concept? Is this Sony exclusive on par with the usual greatness we have come to expect or is there some fine tuning required? Find out in this Hot or Not!
Hot
Presentation
If there is one thing Everybody Dance does right, it's the presentation. Starting off with a clean, but effective screen it seems fairly standard, however when you select a mode like Dance Now you start to see the brilliance.
All the songs are arranged alphabetically featuring a picture of its respective album art. When you highlight a song the album art changes to a clip of the music video (audio included). Below you're simply told the energy level which isn't difficulty persay, just the amount of work required to complete the song. Under that you have the artist's name and the songs title. This system looks really well done, plus offers a high amount of informative without being complex.
The same happens when you actually start the song. You can see the songs music video to the left and your required movements to the right. Below you can see the lyrics which illuminate when the words are spoken. This gives you the choice to sing along which honestly is a nice touch. In the middle there's a dancer that sometimes feels out of place, but gives you an idea of what is required. Definitely a great effort on making things flow so perfectly.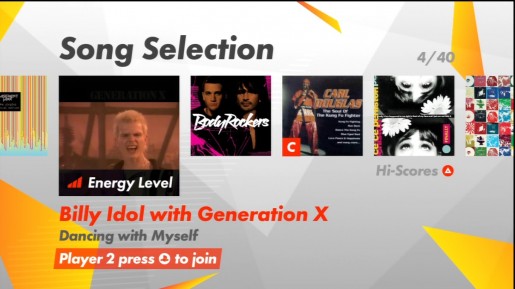 Variety
This game's demographic is pretty young, so most of the songs are fairly recent. That being said there are several classics that just about anyone would know. Without a doubt this makes the game more family oriented than a single group. Almost anyone can find at least one song that appeals to them and dance their heart out.
Own Routine
It would be crazy to think that your dance style is wrong. Everybody Dance agrees and offers you the choice to make your own routine. This will capture your dancing for the songs duration, in addition it allows others to try and master your moves. This opens up quite a bit more playablity, but more importantly offers some good times at say a party.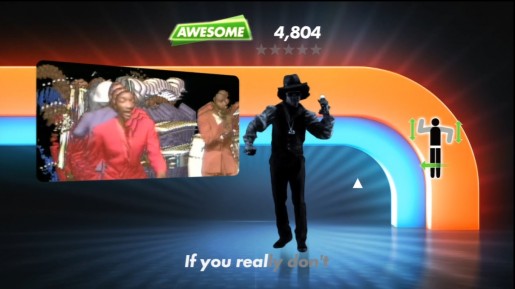 Options
When you go to select your song, you're given a number of helpful options. The first menu will let you select the appropriate difficulty or you can use the aforementioned personal routine. The next menu offers duration which is a huge plus. You can elect to do the whole song, or roughly half. Each songs is given a complete time duration and allows you to do the amount right for you. The real attraction is doing a song you may like without having to exasperate all of your energy.
Not
Confusing
When you play all controls are given to you via still figures with arrows. Sometimes the images and the actual action look fairly different. In addition the game gives "pointless" actions. These are elements that you're told to do, but aren't actually required to get points. Virtually anything that doesn't use the move isn't required. This can cause you to get lost in sequence or confused at what you're looking at. The onscreen dancer does a great job of showing you the moves, though following them won't get you a great score.
This problem is only amplified by the spotty detection. At times you might perform the proper action only to find out it was viewed as incorrect. These typically appear in slower actions that are easier to follow. Transversely more complex actions will generally get tracked as accurate, even if you're doing something around the actual action. This definitely causes an inconstancy in scoring that ultimately makes it less enjoyable.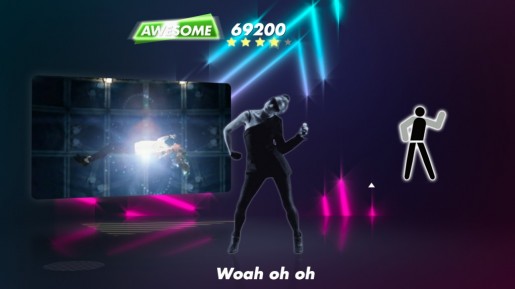 Song Selection
40 songs' isn't a whole lot to choose from. While competitors don't a ton more, they still do feature 25% more songs. This can make a huge difference as you can get bored of songs fast. There is DLC that you can use to extend your selection, but the price is quite steep.
Verdict
This was a solid first attempt, but it's just not there. When the dance moves confuse you, it can take you a several tries to even have a clue what to do. The diversity of songs is great, though they could have added a lot more. There is no doubt that this is a great party game, though it's not much past that. Honestly if you want to have some fun with friends you can't miss, but outside of that you probably won't get your money's worth.
[Editor's Note: Everybody Dance was reviewed on the PlayStation 3 hardware. The game was provided to us by the publisher for review purposes.]