It's been 6 years since the last Battlefield title was released. Yes there have been Bad Company titles to bridge the gap but there hasn't been a true Battlefield game since back in 2005. However Battlefield 3 is finally here hoping to bring adrenalin rushing realistic gameplay to gamers. Will the game which offers players plenty of destruction be an explosive success or will it be as entertaining as a building collapsing into you?
Let's find out and kick of the HOTs and NOTs.
HOTS
Online Experience
Putting what the majority of gamers will be most interested first; Battlefield 3 brings war-zone style engagements to the PC once again, with up to 64 players on one server. The game offers nine multiplayer maps across five different game modes. Each map offers something different in terms of gameplay. Some offer longer contact distances, which will most certainly be preferred by players who enjoy the recon class; whilst others are much more about close quarters combat funneling players through tight alleyways. Due to the size of Battlefield 3 players can often find there are multiple small engagements to pile into.
Personally I found like in many other Battlefield games Rush was the best mode, as fire fights were always located near the objectives. Compared to the engagements players would expect in a Call of Duty title, most of the smaller conflicts in Battlefield 3 that occur around the map, equal those on the larger end of the scale in a Call of Duty title. The best part about this is if you feel like you're not getting anywhere on one front players can decide to try their luck attacking a different location. In turn players don't feel like they are going to be stuck in an endless loop of combat in one area like in many other FPS titles.
Bad Company players will find there is a noticeable change in the class system with the different classes receiving different gadgets but otherwise there is little overall change. The four main classes: Assault, Engineer, Support and Recon, each have their own set of unlocks and ranking progression; enabling players to find a class that suits their play style and unlock other weapons or parts unique to that class.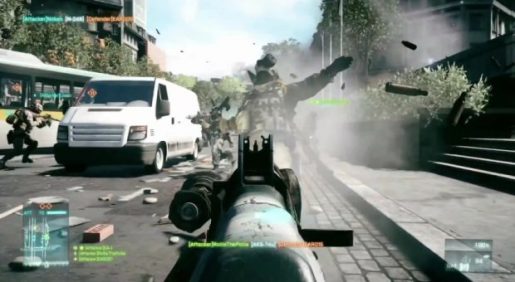 Intense & Immersing Plot
While the storyline doesn't have the same Hollywood blockbuster style events as other first person shooters, the plot does have a number of more realistic blockbuster style events. The story manages to stay at high intensity throughout the title, leaving gamers only seconds to pause and regroup before the next scene kicks in bring another adrenaline rush. The storyline itself won't exactly win awards but it is the immersion of the settings and the engrossing nature the plot takes players on that will keep players from exiting.
Co-op Experience
Battlefield 3 also has an interesting cooperative mode which allows players to partner up and tackle 6 missions which are unique to the coop mode and are completely separate to the storyline. Each of the six missions has a different objective with the best seeing you piloting a helicopter and covering ground troops. Not only are the missions well worth the time spent on them as an added bonus they unlock unique weapons for the multiplayer element of the game.
Brilliant Presentation
Battlefield 3 is not only extremely pleasant on the eyes but it is tremendously pleasing on the ears too. Players will have the treat of brilliant stunning graphics and textures alongside various realistic animations which are a step above that seen in competing first person shooters. The visuals are what most will notice straight away especially with the incredible lighting system which sees blinding sunlight, fancy explosions and sharp shadows all over the multiplayer maps and single player environments. Battlefield 3's sound help engross players into the conflicts as well as helping fuel the adrenalin rush that gamers will experience while playing.
On the animations front from vaulting over low walls and obstacles to the swift reload that every single gun seems to possess, everything seems smooth and most importantly well polished.
NOTS
Minor Bugs
Unfortunately as with any game these days, there are numerous little bugs and glitches which detract from the overall experience. While the biggest one of all is an odd sound glitch, which infrequently occurs when reloading, they all slightly break the immersive nature of the title. With a game that is so brilliant at immersion these little bugs don't come close to ruining or even slightly spoiling the overall game. This being said let's hope EA DICE is quick to fix them to make the experience completely engrossing.
Balance Issues
On the whole DICE have done an incredible job of balancing the weapons, gadgets, equipment and vehicles; alas a couple of issues have seemingly slipped through the net. A lot of players, apart from those using them, have deemed that the mortars are slightly over powered. While mortars may not be the easiest thing to use, once they are set up to target an area they can easily hold down that point; giving the opposing team little to no chance to advance.
Verdict
Battlefield 3 is the sequel that every Battlefield fan wanted. Bringing in up to date graphics and new gameplay mechanics to the series Battlefield 3 stands next to other first person shooters that are available on the market and truly offers a different but equally as entertaining experience. The experience is one of the best presented and most immersive to be on offer to gamers at the current time. If you are a fan of the first person shooter genre you would be truly missing out if you didn't purchase Battlefield 3.
[Editor's Note: Battlefield 3 was reviewed on the PC. The game was provided to us by the publisher for review purposes.]
Battlefield 3 (PC) Review

,