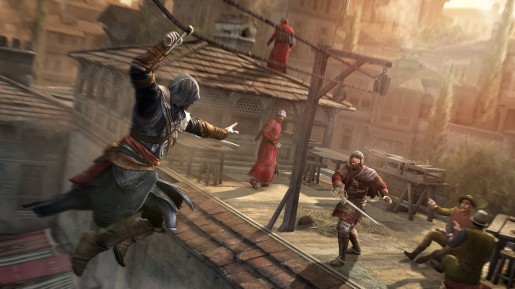 Assassin's Creed is storied, if nothing else, a beautiful tapestry of anachronism and pretty landscapes. For the past three years, we've been following the journey of Ezio Auditore in his quest to find the answer to the mysterious Apple of Eden. As of late, it would appear as if Ezio Auditore has been losing touch due to a crippling case of repetition flu.
Promised to be the last game of Ezio's sterling career and to bring a conclusion to the saucy Italian man's life, does Assassin's Creed Revelations end with the bang we've been hoping for from the series, or is his essence lost in the streets of the old Constantinople? Let's take a look on what's HOT and what's NOT in our review of Assassin's Creed: Revelations.
HOT
Story Once Again Lives Up to the Fans' Expectation
The series has been renowned for its phenomenal story and narration due to its deep storyline and references to some of the most important people in our history. First we've seen Leonardo Di Carpio in his early years during the time of Ezio, and now, as he concludes his chapter in the Assassin's Creed series, players will now meet the younger version of Suleiman during the rise of the Ottoman Empire. As always, the game will take place in in a big city and in Revelations, players will get to explore and unlock the secrets of the old city streets of Constantinople.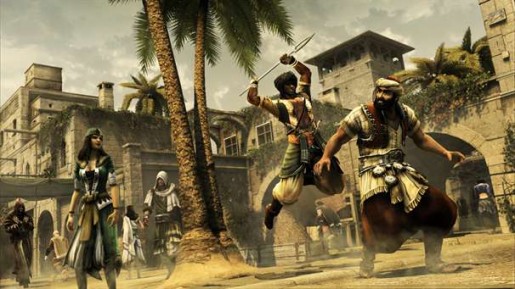 Taking place several years after the events of Brotherhood in Ezio's time, he sets out on a journey to find the library that his father once sought during the early years of Ezio. It's been said that the library that is hidden beneath the old castle of Masyaf holds a powerful artifact and to protect it from the Templars, Ezio's mentor Altair locked it with five keys and scattered them all over Constantinople. In his quest to find these keys, he will once again clash with the Templars that are taking over Constantinople.
As for Desmond, Revelations will start in a story where he's trapped in the Animus while he's still in the state of comma. In order to find ways for him to wake up, you must find the pieces that will connect his ancestors together and unravel the big plot between the three assassins, Ezio, ALtair, and Desmond.
New Additions to Revelations
Players who have been following the Assassin's Creed series since the beginning, they will be pleased to hear that Revelations offers two big new things. First of the new stuff that's been added is Bomb Crafting. Using the three different ingredients that can be found all over Constantinople, Ezio can craft different kind of bombs and use them to distract and kill enemy templars from a distance. This new addition is very beneficial as it helps make the game a lot easier – especially on the missions where you have to get past enemy soldiers. The ingredients that you gather in the game aren't hard to find as all over the city, there will be treasure chests waiting for you and they most likely contain an ingredient for bomb crafting.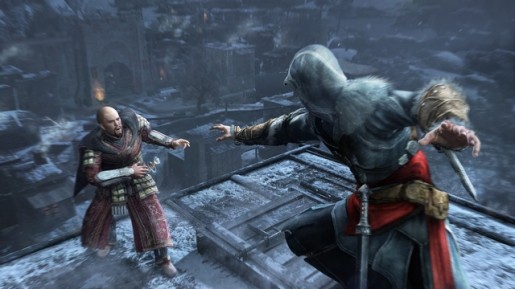 In addition to Bomb Crafting, players can also expect a new feature where a Tower Defense type of game is added. At some point in the game, you will have an opportunity to have this tower defense mini game where you have the ability to command soldiers and stop oncoming forces from reaching your HQ. In order to do that, you can place units of different classes onto the field and pray that it will stop the wave of forces. Just like in every other tower defense game, every successful kill will earn you points to deploy more units. In Revelations, it's the same case.
To make Ezio's journey easier, he's rewarded with a new tool that he can use. The HookBlade that he gets early on in the game will allow him to climb walls a lot faster and gives him the ability to zipline from one place to another. While it may benefit him in climbing buildings, it sadly cannot be used in battle.
Multiplayer Loaded with New Stuff
In addition to the story mode, players who enjoyed the multiplayer portion found on Brotherhood will be pleased to hear that it will return for Revelations. This time, there will be new additions to make it even more motivating for fans to play. There are new modes such as the Artifiact Assault, which is the same as Capture the Flag, and a the very common Deathmatch mode. Also, there's new stuff available when it comes to choosing your characters. Some of the new characters to expect in the multiplayer portion is the Ottoman Doctor. While the new modes are a nice addition and a great improvement, it will only still appeal for players who enjoyed it in Brotherhood.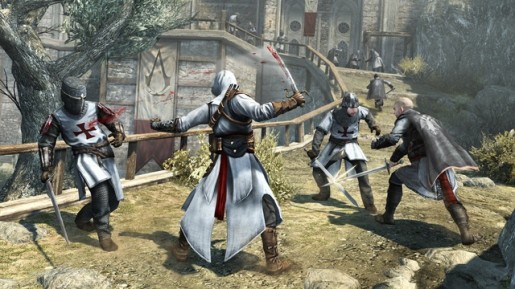 NOT
More of the Same Game
Being the third game where we follow Ezio, gamers who played Assassin's Creed II and Brotherhood might find this game a little bit dull as everything in the game is pretty much the same as the past two titles that features Ezio. Pretty much, without the new stuff mentioned, you'll feel that you're simply playing an expansion. However, what most fans will play the game for will be because of the story.
Revelations offers the same exact formula that was used in past Assassin's Creed game. The Assassin's Guild that was found on Brotherhood will make a comeback with only a slight improvement, you will once capture enemy base territory, recruit Assassin's to help you when you're in trouble, and buying properties to have you get a good income. If you've played Assassin's Creed II or Brotherhood, you already know what to expect in this game.
Visuals are Slightly Dated
I must admit, when Assassin's Creed was first released, I was astounded and impressed to the big landscape and depth of the game's environments. After playing the first one, Assassin's Creed II, and Brotherhood, I wasn't really impressed to the visuals anymore in Revelations as I've already seen this and expected it to look the same as past titles. The textures and character models of the townspeople, the towns and the buildings look the same as the previous two titles and I only noticed a very slightest improvement to it, and that's how Ezio and other characters look. What makes Revelations stand out however, is the phenomenal voices as they succeed once again in telling a story that Assassin's Creed fans will appreciate.
VERDICT
In the end, Assassin's Creed Revelations lives up to what the Assassin's Creed series has been known for despite it being familiar to the previous games in the series. However, what most fans will really love about the series is the story and with Revelations, they will not be disappointed. With new characters, a fun tower defense game, and a conclusion to Ezio's story in the Assassin's Creed series, long-term fans should definitely pick this game up. For new comers, it's best that you play Assassin's Creed II and Brotherhood first before you play Revelations to get a better understanding of the story.
[Editor's Note: Assassin's Creed: Revelations was reviewed on the PlayStation 3 hardware. The game was provided to us by the publisher for review purposes.]
Assassin's Creed: Revelations Review

,