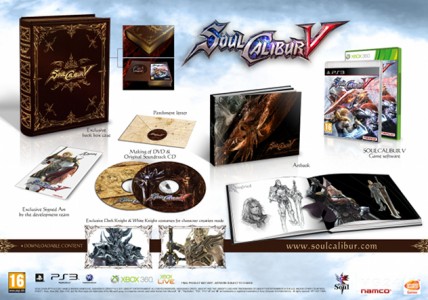 Following the official announcement of Ezio's presence in Soul Calibur V, Namco Bandai has announced the collector's edition of the game and its contents. This edition may not come with a fancy statue, but what it does contain is sure to satisfy the game's fans.
Included within are the following:
– exclusive art (signed by the developers)
– parchment letter (signed by the developers)
– original soundtrack
– making-of DVD
– art book
– two sets of armor for character creation (Paladin and Dark Knight armor sets)
At this time, the collector's edition has not been given a price. Let's hope Namco keeps it reasonable (my guess is $69.99 – $79.99). Are these extra goodies enticing enough to dish out a little (hopefully) extra cash?