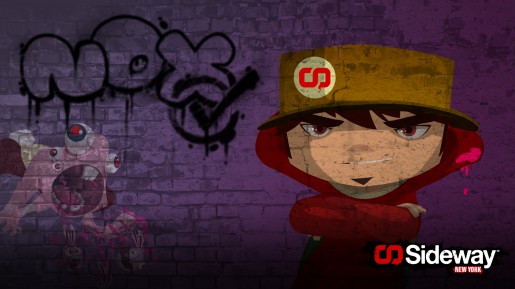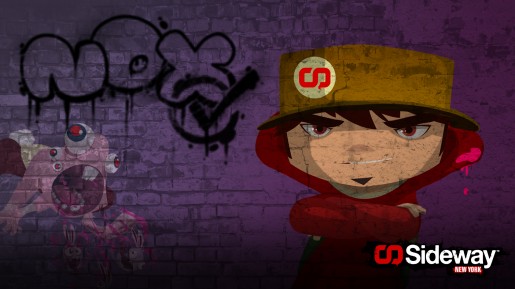 When I caught my first glimpse at Sideway: New York, I thought it was a very interesting and artistic way to tackle a genre as old as video games themselves. Sideway: New York is a 2D platformer set in a 3D world; you play as Nox, a grafitti artist whose female friend Cass (still not sure on where their relationship stands) is missing. During his search, Nox is transformed into paint by an evil being named Spray, and gets sucked into the grafitti world known as Sideway. In this world Nox has to battle his way through Spray's henchmen and their elaborate creations in order to save Cass, and stop the evil Spray from getting out of Sideway and into the real world.
Sideway: New York is a wonderful game, and being able to move about in a 3D world while being restrained to a 2D plain was more enjoyable than I thought it would be. As the hours rolled on though, the sparkly newness of the game began to wear off, and the true nature of the game began to rear its ugly head. Here is the breakdown of what's HOT and what's NOT in Sideway: New York.
HOT
Oh so pretty
Graphically, this is hands down, one of the most beautiful games I have ever had the pleasure of playing. When you start the game, you instantly see how gorgeous the scenery is but as you progress through the hours and you unlock more of Nox's abilities, the game simply blossoms. It's hard not to take your time while running through a stage and just enjoy the amazing color palette on the screen.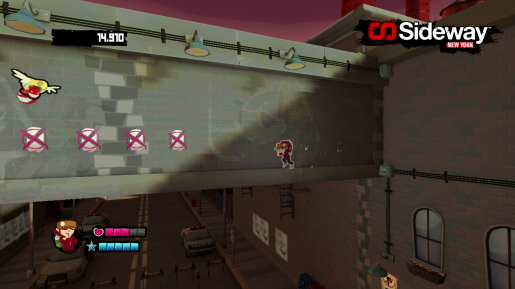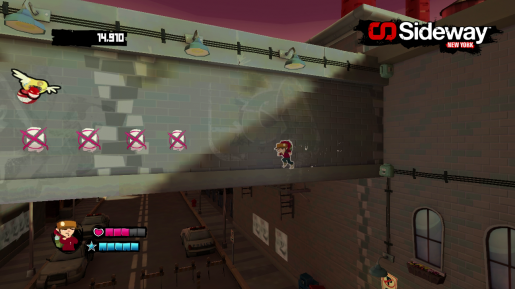 Original Music
Although limited, the music chosen to feature in Sideway: New York does an excellent job in setting the pace and feel of being a graffiti artist trapped in a world of his own art. It is nearly impossible to play this game and not catch yourself rocking to the beat. I am actually disappointed in the fact that there is no option to simply listen to the score from the main menu.
Price Point
The best thing about this game is how little it costs (only $10). The game is quite short mind you; you can easily beat it in one sitting (4 – 5 hours) granted you just tear through the stages and ignore that OCD gremlin in your head. Each of the game's stages has a number of collectibles and the bosses are quite challenging.
NOT
You will die, ALOT
Sideway: New York is not for the faint of heart. Nor is it for those who have the tendency to rage quit or break controllers. Now don't get me wrong, this game is no Super Meat Boy, but it will have you screaming at your PS3 over, and over, and over……and over again. Platformers are all about timing and this game takes that rule very seriously. It took me about twenty minutes to get past the first boss until I figured out his timing. Now it only takes me about two minutes to beat him, and there are many sections of the game that brutally punishes you for making these slight miscalculations in your timing. Luckily, the checkpoints are placed very well so as not to frustrate you to the point of breaking things, but until you figure out that timing, be prepared to die…a lot.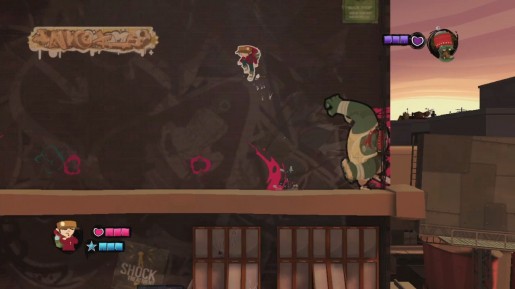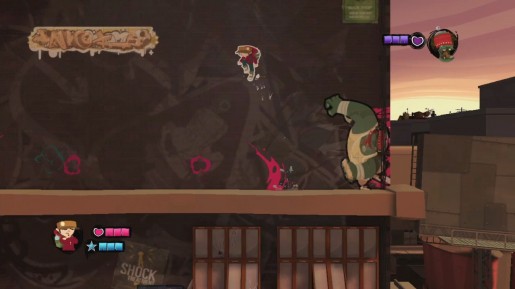 Music is extremely repetitive
I know I listed the music as one of the strong points in this game, and honestly it is one of the strongest points. The thing is, the music gets repetitive very quickly. It feels like there are only about 5-8 songs in this game, some of which are purely instrumentals. With the amount of times you replay stages from the deaths that occur, it does not take very long at all to hear the entire score of Sideway: New York.
Co-op
I do enjoy seeing games that have two player co-op; I do not however, like seeing games that just seem to have co-op just to have an extra feature. In two player mode, when one player dies, he has to wait for the other player to reach a checkpoint in order to respawn; that is fine except for the fact that this game can be so brutal that players may as well just take turns because the majority of each stage will be played by a single player anyway. One thing that struck me as odd, was the decision not to have a split screen option; when one player gets off the screen, let's say if he moves around the corner onto a different surface (this is a key element in the game btw), said player has no idea what his character is facing and basically has to "wait" for the other player to catch up. This can lead to some serious arguments on which paths to take throughout the game.
VERDICT
Sideway: New York is a beautiful piece of art that should be experienced by any platformer fan. If you like the core mechanics of Little Big Planet but want more of a gritty "street" setting, then this game is a must buy. However, if you have to buy new controllers regularly due to rage quits, then avoid this game at all costs. The music, although repetitive, is some of the best I've heard in a downloadable title in a long time and the platforming mechanics are extremely fun. If you have an afternoon to kill and $10 to spare, I highly recommend picking up Sideway: New York.
[Editor's Note: Sideway: New York was reviewed on the PlayStation 3 hardware. The game was provided to us by the publisher for review purposes.]