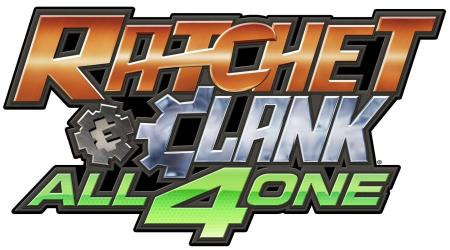 Ratchet & Clank: All 4 One is the tenth iteration of the famous Ratchet & Clank series from Insomniac Games. This game comes two years after "A Crack in Time" and focuses more on 4 player co-op action rather than the traditional single player platform style it's usually renowned for. With that being said, is this latest installment of the Ratchet & Clank franchise as credible as its many predecessors?
Is Ratchet & Clank: All 4 One a game worth playing for long term fans? Does the four-player co-op mode add anything new and innovative to the series? Let's find out as we look at what's HOT and what's NOT about Ratchet & Clank: All 4 One.
HOT
Humor
One thing that long-term Ratchet & Clank fans will love is that All 4 One retains the series' iconic humor. This game is even more funny now that Doctor Nefarious is now an ally for both Ratchet & Clank and is now forced to work alongside them for the very first time. The trio is also joined by the quirky Captain Querk.
The dialogue can be quite witty because Doctor Nefarious has a strong dislike for the other three characters in the game. One time Nefarious asked if he could kill Captain Querk and make it "look like an accident". Ratchet even considered the proposition until Clank immediately chimed in and said he cannot do that.
It's this level of character interaction which makes the Ratchet & Clank game fun to play. I was playing Batman: Arkham City a few minutes after and you can tell the difference in tones right away. Although Arkham City is a very good game, it felt depressing playing it straight after the humorous and upbeat tone of All 4 One.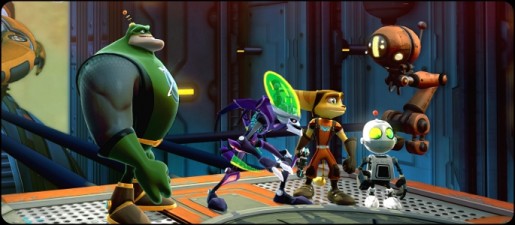 Varied Gameplay (In Parts)
Although the early parts of Ratchet & Clank: All 4 One can be very repetitive, the latter stages of the game freshen up the gameplay to makes things more interesting when it comes to the co-op side of things. One of my favourite parts in the game is a wakeboarding segment as you try and avoid a giant octopus-like creature. Another level sees you trying to keep a bulb of light going to avoid giant venus flytraps from eating you. All 4 One may like the puzzle-solving aspects of A Crack in Time but it's good to see Insomniac Games experimenting with new gaming ideas to keep things not so boring.
Visuals
As it is with every Ratchet & Clank game, you can expect the graphics to be bright and cheerful. I have to admit the visuals are not as detailed as A Crack in Time which was released two years ago, but some of the levels look downright gorgeous. One level reminded me of the moonlit forest seen in the movie Avatar. Not to mention this is the first Ratchet & Clank game you can view in stereoscopic 3D. The way the objects and character models pop out of the screen looks very awesome. It's better than the 3D seen in Resistance 3 where only the HUD display stood out.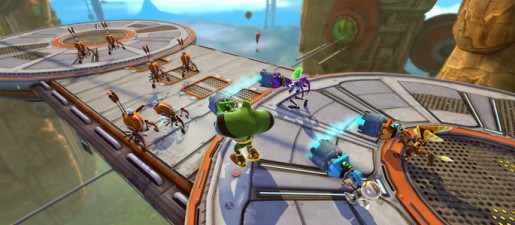 NOT
Linear Level Design
A Crack in Time and several other Ratchet & Clank titles offered large and impressive levels for you to explore, All 4 One is mostly a linear action game with only one obvious path for you to follow at all times. There's not an opportunity in the game where you have to solve puzzles or do some sight-seeing like in previous Ratchet & Clank titles. The majority of your time is spent walking around shooting or beating up a plethora of the same looking baddies. Some of the latter levels offer varied styles of gameplay but most of the game can be quite repetitive compared to other Ratchet & Clank games from the past.
Camera Issues
Another thing that may prevent people from liking this game is the camera. Because the game has to accommodate up to four players simultaneously, the camera is fixed which can lead to moments of frustrating gameplay. Having four players on one screen can be hectic as the camera zooms out and it's often hard to see where you are going.
Not to mention most of the enemies are robots and you often see a barrage of explosions on the screen. It's hard to watch each other's back when four gamers are playing too because if one person dies, it's game over for everyone. This can be truly annoying during a massive boss battle as there's only a limited amount of space you can walk in and you often find yourself bumping into the other players very often…
That's not to say the co-op feature in All 4 One isn't fun because it can be depending on the number of people who are playing. From my experience, I felt the game was more tolerable if you played with only two players at one time. The camera is more stable with only two players and it's much easier for you to co-operate and work together.
Bugs and Issues
In terms of playing online or offline, I'd recommend playing offline instead. This is because many bugs occur when you are playing online. Although the game thankfully doesn't suffer much lag, there are often times when the game doesn't load up the next area. On more than one occasion I had to pick up an energy bulb and chuck it at the door so I can proceed to the next area. This was achievable when I was playing offline but not when I was playing the same area online. The game wouldn't allow me to pick up the energy bulb so I couldn't proceed to the next area! The only thing you can do is reset the game and start over which is painfully annoying to do.
VERDICT
Ratchet & Clank: All 4 One is what I would call a hit and miss affair. Some aspects of the game can be very fun and I can see younger gamers enjoying the accessibility of the drop-in and drop-out co-op style of gameplay. On the other hand, playing with up to three other players online can be frustrating due to the bugs that occur and the annoying fixed camera. Ratchet & Clank: All 4 One may not be the best Ratchet & Clank game ever made, but it's fun if you don't mind the chaos involved while playing online.
[Editor's Note: Ratchet & Clank: All 4 One was reviewed on the PlayStation 3 platform. The game was provided to us by the publisher for review purposes.
Ratchet & Clank: All 4 One Review

,