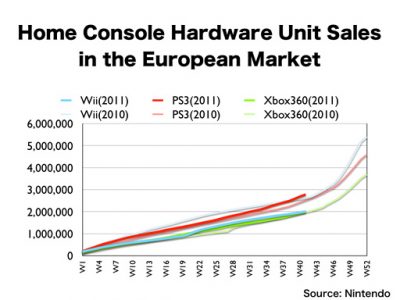 European sales for the PS3 in 2011 reached 3 million units. This is one million more units sold than both the Xbox 360 and Wii this year.
As reported over at IGN, the PS3 has outperformed its main competitors consistently throughout the entire year.
The information comes from a Nintendo financial result briefing showcasing the popularity of the PS3 in Europe. It reads "sales of PS3 are exceeding those of last year, but Wii's sales showed a year-on-year loss. Xbox 360 is selling well in the U.S., but the transition is nearly the same as last year in Europe."
It will be interesting to see if the PS3 still remains on top during the lead up to the busy pre-Christmas season. It could on hold to the lead thanks to the release of Uncharted 3 early next month.
PS3 Top Selling Console In Europe During 2011

,