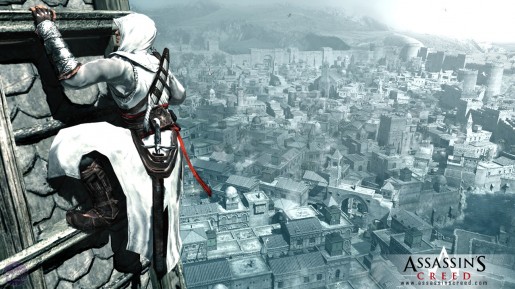 Let us begin this by saying: Assassin's Creed is hands down one of the best video game franchises we have ever had the pleasure of experiencing. We absolutely love the series and all of it's games and it is only because of our love for the series are we able to express our disappointments with the decisions that have been made by the Assassin's Creed team over at Ubisoft.
You see, I never actually intended on playing the first Assassin's Creed game. My wife happened to see G4's hands on look at the game back in 2007 and it intrigued her. Personally, the game aroused no interest in me and so my wife dropped the subject. A few months later, we were in a Gamestop and my wife saw that Assassin's Creed was on sale for only $30 and again, recommended I buy it. To which I replied, "I'm not spending thirty bucks on that game." Several months passed and my wife happened to come across a copy of Assassin's Creed, this time for only seventeen dollars, and did what any normal gamer would do.
Now keep in mind, my wife presented me with this game only a few days after we had just set up our first big screen (42 inch) HDtv, and asked me to play it for just a few minutes so she could see what it was like. So I hesitantly popped the game into my 360 and started playing, and instantly fell in love. Sure the gameplay was repetitive after the first hour or so, but I could just sit there and gasp at the beautiful viewpoint animations for minutes at a time. I couldn't wait for the next game in the series to come along but as the franchise continued, the more I learned about the direction the games were going, the more my heart sank when bad decisions kept rearing their ugly heads one after another. Below, we will outline these decisions and go into detail as to the top 4 reasons that we love to hate the Assassin's Creed series.
1. Lack of additional ancestors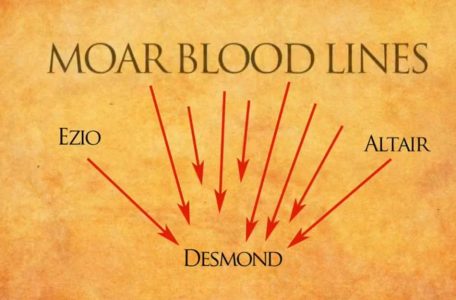 The biggest and most exciting point that was presented in AC1 was that gamers play as Desmond Miles, who uses a device called the Animus to recall/relive memories of his ancestors in order to locate ancient artifacts to help with an ongoing war between the Assassins and the Templars. Each game would take place in a different time period, allowing Desmond to access a different ancestor's memories to find a different ancient artifact. This held true throughout the first two games, but now here we are about to receive the fourth game in the series and we've only experienced two ancestors. Let me repeat that…..FOURTH GAME, TWO ANCESTORS. Where are all the other ancestors?!?! Desmond is supposed to be descended from the greatest assassins throughout history but we're only going to experience two of them? Seriously Ubisoft? Not to mention the fact that it has been confirmed that Desmond's story will conclude with the 2012 Assassin's Creed game; which leads to my next point:
2. Desmond game coming too soon
In an interview with Eurogamer.net Assassin's Creed: Revelation creative lead Alexandre Amacio stated, "Assassin's Creed is all about cycles – we have the Ezio cycle and the Altair cycle, and both of those are set to conclude in Revelations and we have the Desmond cycle, which is set to end on December 2012." This statement makes no sense whatsoever because if they truly had an Altair cycle, they would have made additional games to expand upon Altair's story much like the way they did with Ezio. Wrapping up the story of Desmond as soon as next year is a complete and total injustice to his character as we have not seen any kind of growth in Desmond over the past three titles. He is still just as confused as he was when he first woke up in Abstergo back in 2007.
3. Filler Games
Are we truly the only ones out there that are completely and totally appalled by the fact that in Revelations, we're going to be playing as a 52 year old Ezio? Come on Ubisoft, the guy looks like a grandfather; We are sick and tired of Ezio. Why are we being forced to play these games that are only delaying the main story arc. After what happens at the end of AC:Brotherhood, you would think that we would get some answers right away in AC:Revelations right? Wrong, because it would seem that Desmond is now in a coma. Creative Director Alexandre Amancio has stated that, "At the end of Brotherhood, Desmond falls into a coma as a result of a traumatic shock to his system. When Desmond 'wakes', he finds himself in a mysterious and surreal dreamscape. Everything he experiences here is a projection of his own mind filtered through the Animus's circuitry: fragmented memories, symbolic representations of his past and present, mixed with Animus signal streams." So if you thought AC:Brotherhood would be the last filler game, guess again.
4. Assassins are supposed to be stealthy.

Agent 47 taught us the true meaning of being an assassin well over a decade ago and while I appreciate the milestone that Ubisoft has reached by implementing their Social Stealth System (as seen above), this doesn't excuse them from completely disregarding the one key thing that all assassins should have: options. As an Assassin I should have the choice of how I want to take my target down but instead, in the Assassin's Creed series, all assassinations are done the same way: find target, get close to target, battle target and kill. At least in AC1 there were slight variations to the assassinations but AC2 and Brotherhood both completely departed from this game mechanic and it wouldn't surprise me in the least if Revelations did the same.
What do you guys think? Do you want more ancestors? Are you ready for a Desmond game as soon as next year?Are you tired of Ezio or do you want more, perhaps Ezio that has an extendable walking cane? Should Ubisoft tweak the stealth to allow more options? Let us know in the comments below.
4 Reasons We Love to Hate Assassin's Creed

,