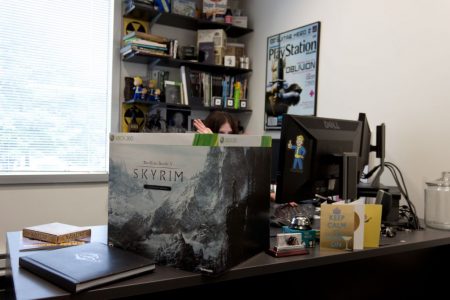 Since the Collector's Edition of Skyrim was announced, no one knows how big the package would be, until today…
The picture shown above is the package everyone will get when they pick up their Skyrim Collector's Edition. The box is big and expect it to take a big space from your desk.
As a recap, here are the contents that you will get in the Collector's Edition of Skyrim.
– Alduin Statue. Created in conjunction with the IP Factory, this collector's only statue stands 12" tall and is made of high quality PVC. Modeled from actual in-game 3D digital files, it showcases Alduin, the World Eater. He stands perched atop one the game's many dragon walls that teach the player the lethal language of dragons.

– 'The Art of Skyrim' Official Art Book. Featuring over 200 pages of striking, full-color illustrations, sketches and models, this stunning 9 3/8" x 12 1/8" coffee table book showcases the characters, creatures, environments, and weaponry of Skyrim. With a foreword by game director Todd Howard and commentary from Bethesda Game Studios artists, readers will be guided through the game's iconic visual style.

– 'The Making of The Elder Scrolls V: Skyrim' DVD. This documentary DVD contains exclusive, behind-the-scenes footage, including interviews with the Bethesda Game Studios team as they take you from concept to creation and provide insights into the story, gameplay, setting, legacy of the Elder Scrolls franchise, and much more.