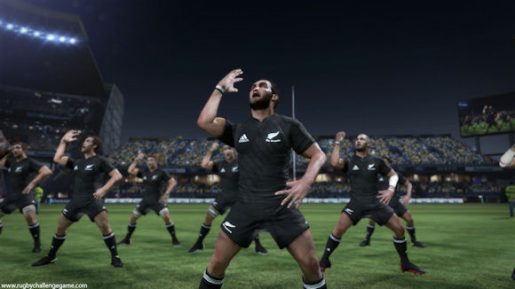 Full details for the second patch that will be released with Rugby Challenge has finally been revealed.
As announced on the official Rugby Challenge Facebook page, the second patch for Rugby Challenge will be released next month. Rugby Challenge is due out October 14th in Europe so the patch will be included on the actual retail disc.
A number of changes will be made to the game's gameplay. One of the biggest additions will be the addition of "game play sliders" among a number of other changes.
Here's the full list of changes:
Added 'Game Play Sliders' to Game Play options to adjust the following:
o High Tackle Frequency
o Offload frequency (AI)
o Offload success rate
o Pass success rate
o Break tackle ability
o Tackle ability
o Attack urgency
o Defensive urgency
-Added the ability to play Online Private Matches with either Balanced Team Stats or Offline Team Stats.
-Movement restrictions for RaboDirect Pro12 and Top 14, now players can only be moved within their respective competition due to licensing restrictions.
-Xbox 360 – Improved frame rate.
-Xbox 360 – Fixed issue where 50 Online Matches Trophy were not being awarded.
-Fixed issue where if an injury occurs on a try the gamer would not be awarded a conversion attempt.
-Fixed issue where Knock-on in in-goal area caused issues with awarding a Try and awarding a penalty to the Try Scorer when advantage was being played.
-Fixed issue where attacking team gets tackled over dead ball line, results in attacking team performing drop out on the 22m line.
-Corrected text from 'Penalty' to 'Option' when lineout results in an option to the opposition.
-Fixed issue where if the gamer holds sprint during a Tutorial in the loading screen the panting SFX would continue into game.
-Fixed issue where sin bin returns were being cancelled by a new yellow card.
-Fixed issue where Yellow Card players would not return to the field under specific circumstances with 'Time added on' (over 40mins and over 80mins).
-Fixed issue where if more than 2 yellow card players were off field they would return to the field in the wrong order.
-Fixed issue where some gamers were not able to replace injured players.
-Fixed issue where passing to playmaker from the ruck would sometimes pass to forwards.
-Fixed issue where failed passes would sometimes be thrown at an extreme angle backwards.
-Fixed issue where the Haka would sometimes play with incorrect leader animations.
-Some player names changed for licensing reasons.
-Various other stability improvements, minor fixes, and minor tweaks.