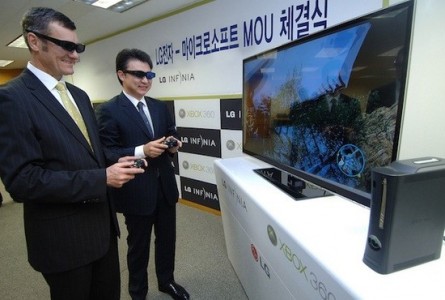 LG has introduced a new technology for specific 3D televisions at the IFA Technology Conference in Berlin that will allow two players to see different images on one television at the same time.
The software has been developed by Microsoft and utilizes special 3D glasses designed to work in pairs to show different images on the same screen when viewed by different people.  The technology currently only works on the Xbox system, and is available on LG's Cinema 3D range of televisions.
The technology has been developed as a very high-tech way to avoid the other player looking at their opponent's screen during split-screen versus games, with the added bonus of allowing both players full 2D use of the entire television screen.  The glasses have been estimated to cost less than £20 for matching pairs.
Sony will use a similar technology for use with the Playstation 3 in their 24″ Playstation TV, to be released in the UK later this year.  This piece of hardware will use a more expensive system in the glasses than the LG.
The flagship LG model carrying this technology, the LW980T, will cost upwards of £1,799, but the technology will be available across the entire Cinema 3D range.
New 'Dual-View' technology introduced by LG

,