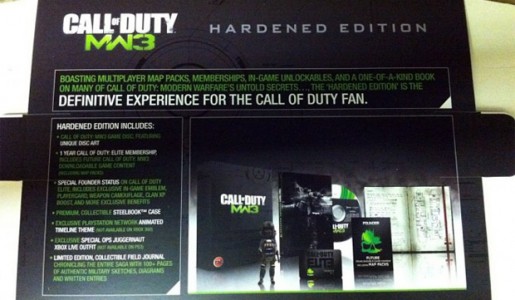 The details to the Hardened Edition to the highly anticipated Modern Warfare 3 has leaked today. Supposedly to have a full reveal this month at Call of Duty XP Event, Wired managed to receive a picture of the retail package of the Hardened Edition.
If you are wondering what does the Hardened Edition includes, they are;
– Unique disc art (that you obsessive types will only see once, I imagine)
– One-year membership for Call of Duty Elite
– "Founder status" on Elite, including: exclusive in-game emblem, player card, camouflage, clan XP boost, and other unnamed benefits
– Steelbook case (doubles as a weapon against robbers)
– "Animated Timeline Theme" for PlayStation Network only
– Special Ops Juggernaut Avatar outfit for Xbox Live only
– Limited-edition collectible field journal
No price has been revealed yet. It will be interesting to see as to how much Activision will price this Hardened Edition. Oh hey, there's a one a year free Elite service included! Maybe, the price is at $99.99.