It has been 8 years since the world had last seen a Deus Ex game, and after playing Human Revolution non-stop for the past few days, I can safely say that it has been missed greatly. The original Deus Ex that released back in 2000 on the PC was regarded by many as one of the greatest games of all time. It allowed players to make their own choices, gave them freedom of taking a level how they wanted and provided them with a story filled with conspiracy and a narrative that kept them guessing and wanting more. It was followed shortly after by Deus Ex: Invisible War which offered what the first title gave players, but in more constricted quality.
With Human Revolution being a prequel to the first Deus Ex, you will learn a great deal more about the origins and problems that augments cause. But does Deus Ex Human Revolution show that it could be just as great as the first and worth a purchase? Here are the Hots and Nots of Deus Ex: Human Revolution.
Hots
Story Full of Conspiracy
The Deus Ex series has always been known for its ability to tell a good conspiracy story. Human Revolution does not miss a beat and gives the player a good story from the moment you start the game to the moment you finish it. You are put into the shoes of Adam Jensen, an ex-SWAT member turned head of security working for David Sarif at his corporation, Sarif Industries. You are tasked with protecting researchers on the eve of Government hearings which will change the course of history but out of nowhere, the company is attacked by a band of mercenaries and you are left for dead. You are then found and given an emergency procedure giving you a slew of top of the line enhancements in order to save your life. With these new found abilities in hand, you set off to find the people responsible for the attack, but you will soon find out that all is not what it seems…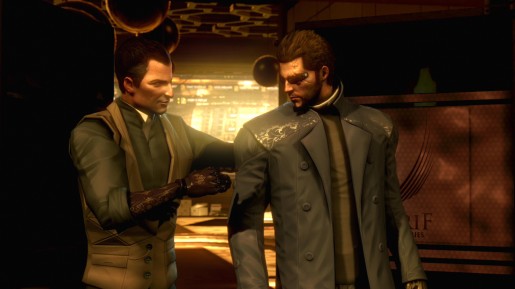 Along with the main story, you will also have access to a variety of side stories within each city hub. These missions help to flesh out the story of the city and even learn a little more about Adam himself. Each one offers different objectives to accomplish as well as different ways to achieve them. They are nice diversions that offer more for the player to explore in a game that already offers a great deal.
Gameplay Is Addictive
The gameplay of Deus Ex: Human Revolution follows what the developers call the "Four Pillars of Gameplay" which are Stealth, Combat, Social and Hacking. Each allows you to play the game however you choose, although at times they may mix. Stealth may lead to you needing to hack a terminal which may trigger an alarm should you fail, leading into the combat portion of the game and causing you to utilize the different mechanics in order to survive and progress. All of them work well and when you pick one of the main two (combat and stealth) you are free to switch between them at your leisure. Maybe you grow tired of taking things quiet and want to cause some mayhem? By all means, whip out that shotgun and plug a few guards.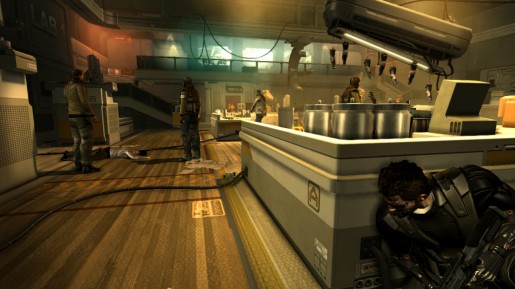 The controls in Human Revolution are different from your standard FPS game, but not so much to where you will take forever to get adjusted to them. Those of you who have played Rainbow Six: Vegas will feel right at home with the controls here and not even miss a beat. There is a wide variety of guns at your disposal from standard firearms such as a pistol and assault rifle, to silent weapons like the stun gun and crossbow (my personal favorite). You can also choose to use hand-to-hand combat rather than guns if you wish. The takedowns in the game, whether you choose to use lethal or non-lethal, are brutally awesome and fun to watch as they are being executed.
There are various upgrades that you can put onto your weapons and augmentations that can help you in whatever path you may choose. You can add things such as silencers and fire rate enhancers to your weapons that will help you in either stealth or combat portions of the game. Some weapons even have their own unique upgrades that give them cool abilities (the revolver gets exploding ammunition). You can even upgrade augmentations in your body to help you in your playstyle. You can give yourself a cloaking ability to make you more stealth oriented or you can choose to upgrade the damage reduction if you choose to go all out balls to the walls. You can even mix and match if you want, the choice is yours in Human Revolution.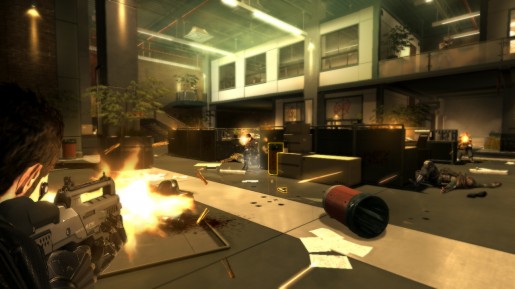 Replay Value
Deus Ex: Human Revolution is a game that can be played multiple times over after you complete it. With different paths to take missions, a diverse storyline and multiple endings, there are plenty of reasons to come back for more after the credits have finished rolling. Maybe you want to take a completely different approach to the game opposite of the one you did before? Or possibly make different decisions in the game and see where it leads you? Maybe you even want to go through the game on a higher difficulty or finish the game without killing a single person? The game has more choices than you can shake a stick at and there are so many different things you can do differently even after you beat the game.
Graphics/Sound
The graphics in Deus Ex: Human Revolution are satisfying to look at. The cyber-punk style cities and run down grungy environments add mood to the setting and make you feel like you are walking through the seedy part of Detroit or Hengsha. One certain part of the game has you traveling through a tower in Hengsha and you can look out of the elevator as you ascend. The view of the entire upper city is quite beautiful and the game uses a great combination of architecture and lighting to give the player a sense of being an ant among the giant buildings.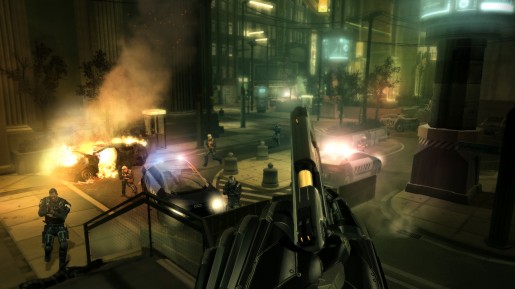 The different sounds in the game each contribute to the immersion you will feel while playing it. The guns sound like they have some punch behind them while reloading them gives off a satisfying sound. Performing takedowns results in a series of snaps and piercing noises as you break bones and use your arm blades to take out your opponents. The background noises and music in the cities adds diversity to each one, from a woman screaming in the distance to a street performer dancing to music. All of this comes together to breathe life into the various place you will visit.
Nots
Load Times
For a game that has an install size of 3GB, it sure does have some pretty frequent load times that can get pretty lengthy. While they aren't unbearable, you would think that there would be less of them or that they would be much shorter since the game is installed directly on the hard drive.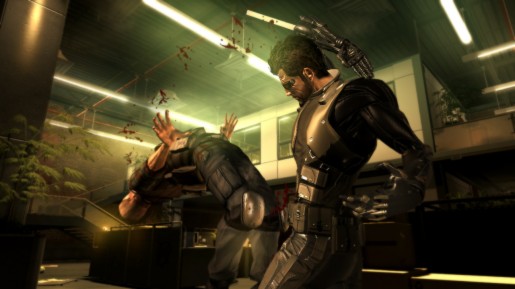 Minor Glitches
While playing the game I have come across a few glitches that can cause some interference in gameplay. The most frequent one was bodies getting stuck in walls, making them unable to be moved. If you are going for a stealth run through the game, this could be a problem. You have to hide the bodies so you can remain undetected but that can prove hard to do if the body is lodged inside a wall. I have found that it can sometimes be fixed by grabbing the limb stuck inside the wall, but it doesn't help if half of their body is stuck inside of the surface. I have also come across a glitch where a door would not load to a different area and I fell into oblivion which made me have to load a save. While these do not happen often (the infinite falling one only happened once) they can cause a hindrance to the gameplay when they do occur.
Verdict
Deus Ex: Human Revolution is one of the best games to be released this year so far. It has a wonderful mix of story, gameplay and atmosphere that will have you hooked once you pick it up and start your game. Minor glitches and load times may get in the way from time to time, but the game makes up for it in content and replay value. This is a must buy for fans of the series and of shooter/stealth/role-playing games alike. You will not be disappointed by what this game has to offer you.
[Editor's Note: Deus Ex: Human Revolution was reviewed on both the PlayStation 3 and Xbox 360 platform. The games are provided to us by the publisher for review purposes.)
Deus Ex: Human Revolution Review

,