Following the announcement of the SMT: Persona 2's pre-order bonus yesterday, Atlus revealed today that their upcoming King of Fighters XIII on the Xbox 360 and PlayStation 3 will be receiving the same treatment but this time, with an amazing soundtrack compilation.
Starting today, players who will pre-order the King of Fighters XIII will be receiving a four-disc soundtrack compilation of the game. Through the four discs, players will be able to listen to the game's massive sound collection. In the fifteen years of King of Fighters, all of the favorite tunes and sounds that fans have heard from the very first game will be in these four disc soundtrack collection! Now that's awesome right?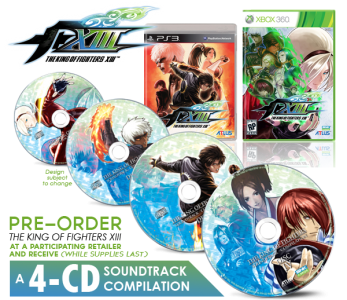 What are you waiting for? Supplies will be limited so head over now and pre-order! The King of Fighters XIII is scheduled for release this October on both platforms.