Contained within the latest issue of the popular Playstation 3 magazine PSM3 is an abundance of information regarding Battlefield 3, the issue's cover story. Also included is an image showing the roles and "typical" loadouts for each of the 4 classes for Battlefield 3's online multiplayer. Take a look.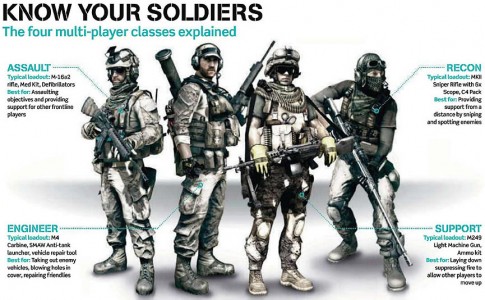 As you may have noticed, Support and Assault roles have switched with each other. Support now carries the ammo kit, wheres the Assault class is the exclusive owner of the Med Kit and Defibrillators.
Here's a break down of the need-to-know information concerning the game.
Battlefield 3 Facts:

Single-player takes you from Iraq to Paris to New York
Multi-player features Rush, Conquest and Team Deathmatch (and maybe more)
Co-op players get a ten-level, two-player campaign separate from the story.
BF3 features Battlelog, a community feature similar to Autolog. And it's free.
Pins and Insignias are back, as is class customization.
Dogtags are back too – and you can customize them.

With Battlefield 3 pushing its release date up to October 25th and continually confirming everything fans want to hear, it may very well take Call of Duty's crown this year.
Which one of the two FPS giants are you most looking forward to?
PSM3 Tells Us All About Battlefield 3

,