The LEGOs series has been in video games since it debuted in 1997 with Lego Island. I still remember controlling Pepper, the pizza delivery boy, as he tried to put the Brickster back in prison after accidentally aiding his escape. Now we catch up with the series over a decade later, and LEGOs has established itself creating playful reimaginings of popular franchises such as Batman and Star Wars. Pirates of the Caribbean is the latest movie to get the LEGO treatment from Traveller's Tales. The game spans all 4 movies: The Curse of the Black Pearl, Dead Man's Chest, At World's End, and On Stranger Tides. Jack Sparrow and the crew are ready to overcome these perilous journeys brick by brick. With the LEGO series carrying mostly positive reviews, does Pirates of the Caribbean set sail for victory or has the series reached its limit?
Here are the HOTs and NOTs.
HOT
Gameplay
As a LEGO game, the goal here, besides just completing each level, is to collect studs to reach "True Pirate" (just like LEGO Batman's "Super Hero"), obtain red bricks for cheats/modifiers, and find minikits. Overall, the experience doesn't stray too much from what we've seen before, but the Pirates of the Caribbean theme is done so well through gameplay and the environment that it makes the experience unique. Be prepared to reenact the great scenes of the movies, such as the escape from the tribal cannibal camp in bone spheres, redone in the light-hearted LEGO fashion. Jack Sparrow takes center stage in all four stories, although you're welcome to play as the other characters (even a variety of small roles), so you'll be spending a lot of time in control of this pirate. He even sports the recognizable stagger Captain Jack Sparrow is well know for. Now that's attention to detail! As you make your way through each landmark from the movies (which may require that you stop and enjoy their accuracy), you'll be attacking enemies and nearly every other block-built item on screen for extra studs. Depending on your character, you'll be in possession of different weaponry. Will Turner and Jack Sparrow fight with swords, Mr. Briggs uses a hammer, and for lesser roles, a soldier had a musket while a horse coach driver weaponized his whip. There is a lot of variation in the weapons and abilities of each character, and it isn't just to eliminate opposition in new ways. Different characters can use their specific abilities to get closer to that 100% completion many LEGO players strive for.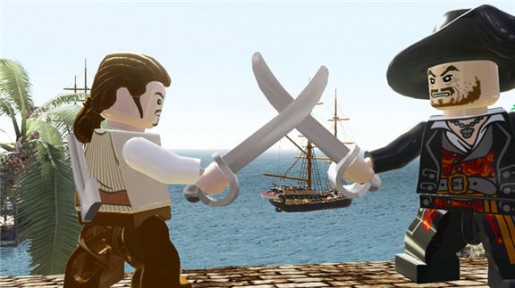 Puzzles in the past largely relied heavily on breaking things down to rebuild them as something more useful. However, this time there are a few puzzles that are a little more intricate than previous titles which most will find as a welcome challenge. Mr. Briggs can utilize his hammer to interact with red (read: hot) LEGO pieces that others cannot touch. Ladies, such as Ms. Swann, have the ability to double jump to reach higher platforms. Jack Sparrow has his special compass to locate important items to solve puzzles as well as extras. With over 70 characters, LEGO Pirates leaves a lot of room for testing out different characters as you revisit previous levels trying to grab every hidden minikit.
Replay Value
One of the greatest selling points of the LEGOs games is that it demands multiple playthroughs. Obtaining 100% isn't an easy task. Merely playing through the four films will only put players around the 50% mark. By running through the game in Free Play mode, players can choose whichever characters they want for each level instead of having them predetermined depending on the narrative's demands. Being able to create a custom crew allows players to solve puzzles previously impossible due to the character restriction. Also, by the time you make it to the second run-through, chances are you've come across cheats and modifiers. These allow you to manipulate aspects of the game such as LEGO build rate and turning the LEGO characters into stud magnets. It may not feel too different from the main playthrough, but it does add some variety due to the new characters you'll control as you open new areas to explore.

Detail
LEGO Pirates of the Caribbean is the most visually pleasing entry yet. The environments look beautiful with water glistening and flowing realistically. This is all accented by the LEGO set pieces placed throughout the detailed environment. The detail can also be seen in character animations such as Sparrow's walk (as previously mentioned) and the fluid nature of the sword fighting. All of it comes together to provide anyone who has watched the Pirates films with a wonderful and exciting pirate experience.
NOT
Lack of Online
Recent LEGO games have allowed for two players to enjoy the experience together, removing the few moments of questionable friendly AI. The only issue with this feature is that it is limited to split screen. With online interaction being such a large part of the gaming community today, it is sad to see this feature omitted. I will say that split screen seems to be dying off due to online, so it is good that LEGO games include this option. However, the lack of online play seems like a huge missed opportunity.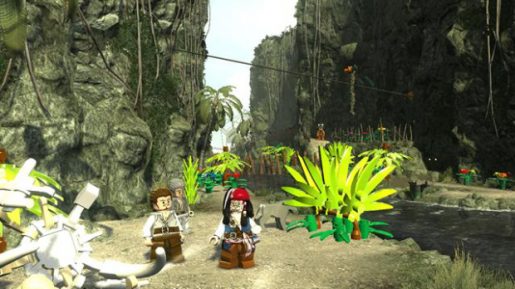 Verdict
LEGO Pirates of the Caribbean didn't reinvent the series, but that doesn't make it a bad game by any means. It plays off of the LEGO charm to the best of its ability and succeeds in doing so. Fans of LEGO games and the Pirates movies will enjoy playing through each movie's memorable moments and the Free Play option afterward. The gameplay is exceptional and the large cast of characters will take a while to fully unlock to try out their different abilities for problem solving. Actually, chances are it'll have them coming back for multiple playthroughs since there is much more than characters to unlock. Just don't expect anything innovative from the series this time around nor should you expect to play the game online with your distant friends. Chances are if you found yourself drawn to previous LEGO titles (or maybe just the movies) you will probably enjoy this game's condensed tale of pirates.
[Editor's Note: LEGO Pirates of the Caribbean was reviewed on the PlayStation 3 hardware. The game was provided to us by the publisher for review purposes.]