Long before the days of Nathan Drake stole the spotlight, Lara Croft was the name everyone associated with dangerous, ancient ruin exploration. As one of the first major recognized adventurers, Ms. Croft is definitely well-know, but she has a lot of time to make up for with other series trying to move in on her territory. Instead of building upon the existing icon, Crystal Dynamics is looking to reinvent Lara by presenting players with a young, vulnerable woman right after college and heading on her first adventure. By creating a new origins story, Crystal Dynamics hopes that this new spin on the classic icon will rebuild the bond gamers once had with Lara Croft.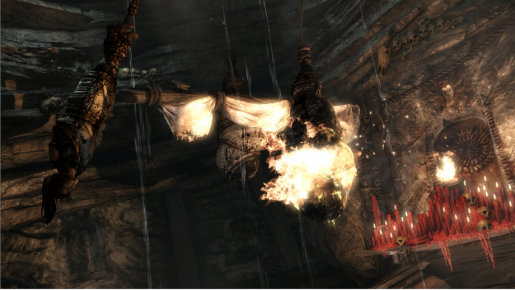 The first section of our demo revolved around puzzle solving. Lara found herself in the unfavorable position of hanging upside down from a damp, dark cave. By swinging back and forth, Lara was able to light her restraints on fire with a torch placed in the cave wall. Fire, as we were told, will play a crucial part in problem solving throughout the game. Once free, our young hero plummeted to the cave floor and ended up with a barb shoved through her side. The scene was a shock for me, being a long-time Lara fan, as I watched this scared girl (not the woman I once knew) deal with her wounds limping onwards. Her walking animation showed both pain and fear. It seems Crystal Dynamics took notice of Uncharted's cinematic style and is looking to try and surpass it.
After some tight cave space navigation and a close call with a psychotic inhabitant, Lara came across her first puzzle. It was obvious what objects needed to be ignited. The only issue was that the torch laid on the opposite side of a waterfall and could not be carried through (obviously). Activating Lara's instinct mode highlighted important objects in the area to further aid in solving the puzzle. What ensued was an intricate use of crates, fire, and pulleys to get the fire on the right side of the waterfall. Just impressive as the puzzle itself, the physics used in coming conquering the first problem were impressive. A heart-pounding escape took place as the cave came down around Lara and she barely made it out without being flattened. That concluded the first half of the demo.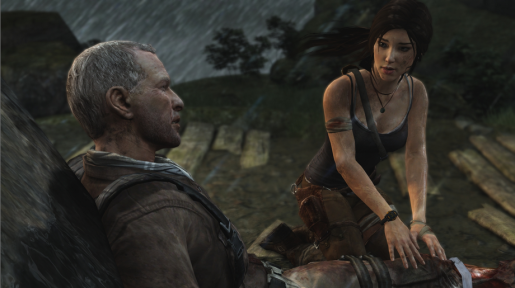 To show off the more action packed sequences in the game, we were taken to a part later on where Lara locates her friend Roth who is severely injured. To aid him, she must find the medical pack and beacon to put out a distress signal. A group of wolves arrived and Lara fought them off. It wasn't the easiest task for her. This isn't the Croft that we remember that would backflip in the air with dual pistols firing with extreme prejudice at her enemies. Later on she encountered a large wolf in a narrow tunnel which resulted in a frantic Quick Time Event as she used improvisation to dispatch the beast. Upon returning to Roth, our demo ended.
The new Tomb Raider game has all the elements long-time fans want. Although we have a frightened, young woman at first, Crystal Dynamics stated that by the end of the game she will be more like the Tomb Raider we remember. With platforming smoother than Uncharted's (we'll see if it stands up to the third entry), fun puzzle solving sequences, and deadly environments surrounding our fresh protagonist, it'll be interesting to watch what more the title has to reveal before it comes out next year.
E3 2011: Move Over Uncharted, Tomb Raider Is Reclaiming Its Throne

,