Last year it was Vanquish; Next year it is Binary Domain. Sega is back, once again, to provide us with another third person, sci-fi shooter. The game takes place in a post-apocalyptic Neo-Tokyo. Robots were developed to make life easier, but, as it turns out, the very same robots have become self-aware and are taking over (sounding familiar yet?). The worst part is that some are starting to be built in exact likeness to humans. With the robots on the loose, a special team is assembled and sent out to deal with the increasing threat. These special operatives will face threats on two fronts: from the robots and from Japan's cybernetic army.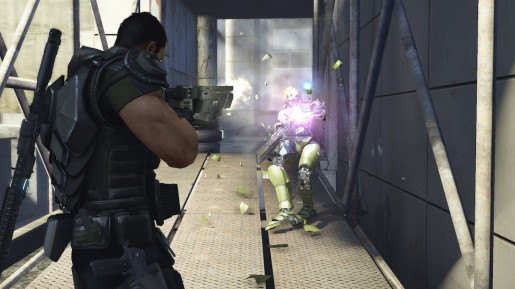 As I picked up the controller, I wasn't expecting to see anything too original. For the most part, that was the case, but it did have a couple secrets waiting inside. The first few shots into the Terminator-esque robot revealed part of the destruction system. Armor and metal flew off of the enemy exposing the vulnerable pieces of tech hiding beneath. Players can take off numerous parts of each opponent and they will react differently. For example, shooting off the legs of a robot may not immobilize it. Instead, the robot may continue to crawl towards you and your team. Blowing off the head isn't always an insta-kill either. This risks the chance of sending the targeted robot into a crazy frenzy, firing sporadically without differentiating between friends and foes. The destruction possible on these enemies stretches to the environment itself. Wooden cover breaks away fairly quickly. Concrete crumbles over time with continued fired. Metal is your best bet seeing as it takes an explosion to drop lower its integrity.
There is a ton of variation in how enemies and the environment breaks apart. The best example of variation presented itself during the boss fight at the end of the level. This hulking mech towered over me standing three stories tall. In Binary Domain, bosses don't have health bars. Players must rely on visual cues given off by the boss. In this level, as more damage was applied the more often sparks and electrical currents showed up on the robot. As with previous enemies, the armor protecting the outside had to be removed with a consistent barrage of bullets. During the first playthrough, it took a while to remove all of the armor and even longer to bring the bipedal robot down. That's the traditional way to take care of a problem. Once I reached the boss fight my second time, I climbed up to the roof and jumped on the mech's head, shooting into a weak point. Thanks to the sniper on my team, I was covered from robot fire coming from another building. I was informed that if I had chosen the demolitions team member it would have played out differently since he would have provided some explosives to defeat the boss.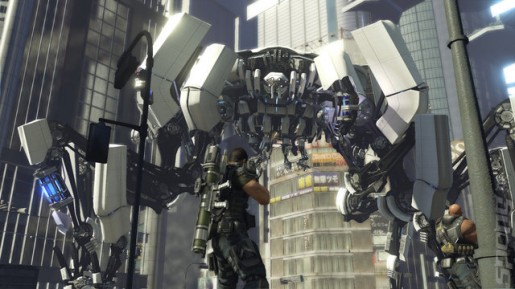 Selecting the right team members for the job is something players must think about before each level. As mentioned, levels can play out differently (sometimes opening new options) depending on who has your back. Adding a bit of depth to this familiar journey, your teammates can like or dislike you depending on your actions. This relationship system requires you to take an active role in your squad and listen to what they have to say. Ignoring the input from a squad member can result in losing favor with them. If you find yourself down and needing an adrenaline shot, just hope the people on your team like you or else they may take their sweet time in getting to you (or maybe not at all).
Besides these components, Binary Domain isn't anything new. This game has every aspect you'd expect from a third person shooter. Regenerating health and cover systems are in full effect here. I'm not saying these are bad features. They just don't break any new ground. It'll be up to you to make the call when the game releases next year.