The Ghost Recon series is known for its tactical shooter gameplay, but for the first time it has shifted to a turned-based tactical strategy game for the Nintendo 3DS. While the launch titles for the 3DS have been weak so far, is Ghost Recon: Shadow Wars a worthy title to pick up? From the sixteen games that are now available on the Nintendo 3DS, about two of them are worth purchasing, and Shadow Wars is one of them.
What makes Shadow Wars a great title to buy for those who just picked up a 3DS? Let's find out in the HOTs and NOTs of our review.
HOT
Fresh New Gameplay for the Series
The new turn-based tactical strategy game that Ubisoft developed for the Nintendo 3DS is a fresh take on the Ghost Recon series. For gamers who play a lot of strategy-based RPGs, Shadow Wars is a must-have. Players can expect to venture through a variety of missions and, as they progress further in the game, players must think carefully about their customizations in order to dominate the battlefield. Shadow Wars is similar to Fire Emblem and Advance Wars in style, but the gameplay is a lot better.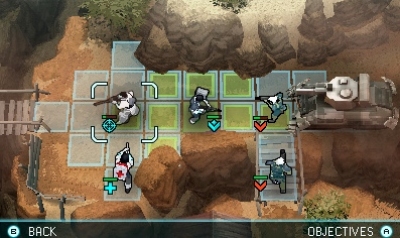 To make Shadow Wars a lengthier title, Skirmish Missions maps will be available at every mission you finish. Skirmish missions will require players to tackle objectives that are not part of the main storyline. The main campaign alone should take players approximately 10 hours to complete, but for people who play the Skirmish missions, expect to spend another 10 hours. One of the things that I love about Shadow Wars is that with each mission, it offers something different in terms of the objectives of the game.
As for how the game works, it's basically like every strategy-based game you've ever played. As it is turn-based, players will have to move their characters via their titles. Shadow Wars isn't like the Ghost Recon games you've played in the past where you just shoot and kill mindlessly. Players who don't think twice about their moves will most likely find themselves dead in the mission. At the end of each level, players will be rewarded with Stars that can be used to level-up characters.
Simple to follow storyline
Ghost Recon games have never been strong in terms of storyline. In fact, the majority of the plots in Ghost Recon games are about war being ignited between countries, and Shadow Wars is no different. In Shadow Wars, players will have to stop the Russian terrorists from igniting a war. Throughout the game, players travel through different areas in the Middle East. Although the story is recycled from previous Ghost Recon games, it is still engaging and entertaining.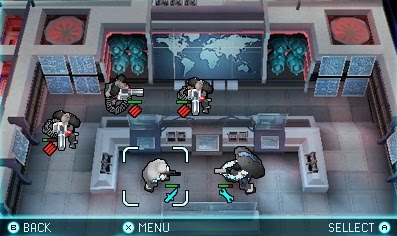 NOT
Weak Graphics
For a Nintendo 3DS title, the graphics of Shadow Wars don't live up to the potential of the handheld. Shadow Wars pales in comparison to other 3DS titles, like Super Street Fighter IV: 3D Edition, Samurai Warriors Chronicles, and Rayman. The visuals can be compared to a regular DS game except there's 3D involved, although it's poorly executed. For most of the time, players will prefer the 3DS slider to be off.
No Online Features, No StreetPass, No Spotpass
While other 3DS games offer Spotpass, StreetPass, and Online functionality, Shadow Wars offers none of them. For this game, an online feature would be ideal. The game would be much more enjoyable if a co-op mode was available. Since there is no online content for this game, Shadow Wars will be finished and long forgotten once players complete the main campaign and the skirmish missions.
VERDICT
Tom Clancy's Ghost Recon Shadow Wars is a must-have 3DS title despite its shortcomings. The graphics and the lack of online features are certainly flaws with this title, but players who love strategy-based games will enjoy Shadow Wars. From the sixteen launch titles that the Nintendo 3DS has, Ghost Recon: Shadow Wars is definitely a title worth picking up.
[Editor's Note:Tom Clancy's Ghost Recon Shadow Wars was reviewed on the Nintendo 3DS platform. The game was provided to us by the publisher for review purposes.]
Tom Clancy's Ghost Recon: Shadow Wars Review

,