Players who will be picking up the PS3 version of Portal 2, a Steam voucher code will be included in the game.
As mentioned earlier, Portal 2 on the PlayStation 3 can be linked to your Steam profile. Today, we will guide you through on how to link your PlayStation Network account to your Steam profile. Please remember that by redeeming the voucher code packed in the game, players will be able to use the Save file on either versions.
Here are the simple steps in linking your Portal 2 PS3 copy on Steam.
HOW TO:
On your PlayStation 3…
1. Be sure that you have a PlayStation Network account
2. When playing Portal 2, press the SELECT button to open the STEAM INTERFACE
3. Follow the on screen instruction. Enter your STEAM user name and Password.
4. When successfully logged in, you can browse through your Achievements, Steam News, and your Friend List
On your PC…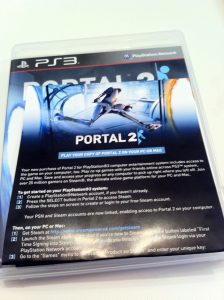 1. On your Portal 2 PS3 copy, get the voucher code. (Pictured above)
2. Make sure that STEAM is downloaded in your PC.
3. Go to Games menu, then select Activate Product
4. Enter your voucher code
By successfully linking it…
Players can log in at Steam at any time. They can use the Save profile that was made on the PS3 or vise versa.
How to Link & Play your Portal 2 PS3 Copy on Steam

,