An image has today hit the internet seemingly revealing Project Cafe from Nintendo which is rumoured to be the codename for the Wii 2.
The image is rather fuzzy and not much of the machine itself can really be worked out. It does look like quite a slick piece of hardware though and with Project Cafe written next to it the link is strong to say the least.
The words next to the console seem to read:
Project Café is simply the most developed friendly SDK the industry has ever seen. Deliver unparalleled next generation performance at current generation cos…it doesn't get any easier than this.

Easy portability from PC, Xbox 360.

Anytime live update past release.

Integrated M-Live framework.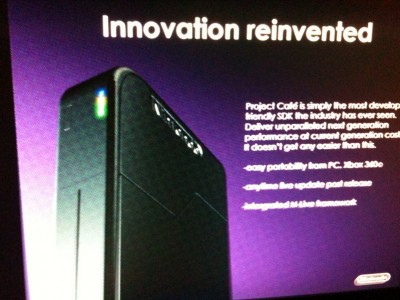 Would you buy a the Wii 2, which is rumoured to be as powerful as an Xbox 360 or does motion gaming just not do it for you? Comment your opinion below.