THQ is well known for their production of different fighting games such as WWE SmackDown vs. Raw. While WWE SmackDown vs. Raw is seen as the simulation version of the wrestling game genre and gives you the ability to play as your favorite wrestler and lay the hurt on your opponents, WWE All Stars is the exact opposite of the SmackDown vs. Raw series. It gives you the ability to play as your favorite wrestlers from past and present as well as giving it an over the top arcade like feel without having to worry about all the complicated mumbo jumbo.
While WWE All Stars has a sillier approach to the wrestling genre, does it still have enough power to hold it's own against it's more mature and realistic older brother? Or does this title get Tombstoned Undertaker status to an early demise? Here are the Hots and Nots of WWE All Stars.
HOT
Arcade-Feel
The one feature that sets this game worlds apart from its simulation style brethren is the arcade type feel that is has to it. Everything from the fighting system to the looks of the characters has an over the top feel to it. The Rock's signature move, The Rockbottom, has him grabbing his opponent then flying high up into the air and bringing him crashing down onto the mat creating a shockwave. His body is disproportionate as well giving him a cartooney look that makes the various forms of brutality seem that much more kid friendly.
The combo system in the game is where the arcade feel comes together. Your four face buttons serve as your attack buttons, two of them are for your basic hits while the other two are used for grappling your opponent. All four of these can be combined to make some epic combos to devastate your opponent. Filling up your special bar allows you to perform a variety of special moves that vary depending on your position. Some of the factors that come into play when you are performing your special are your position to your opponent, whether you're on the turnbuckle or not, and which combination of buttons you choose to press. Lastly, you can end the match with a bang by performing your characters finisher by holding the block and reversal buttons. If your opponent is in the danger zone with health then this is a guaranteed match ender and opponent crippler.
The name itself implies that there is a large amount of characters in the game. The roster in the game consists of 30 All Stars from both past and present wrestling genres. Everyone from Hulk Hogan and The Ultimate Warrior to Stone Cold Steve Austin and The Rock are in it. Each character has their own unique set of moves and specials as well as intro music, looks, taunts, and feel. Characters such as Rey Mysterio are agile and acrobatic while Andre the Giant is more likely to snap your spine like a twig.
The variety also carries over to the different game modes as well. There are ten different modes total that you can play alone. You can also choose to play a select few with a friend on the couch or online to challenge the world. The ten different modes are standard exhibition (one on one fights), Fatal Four-Way (first to receive a pinfall wins), Handicap (1 vs. two match), Tornado Tag Team (two vs two), Steel Cage (first to escape the cage wins), Extreme Rules (anything goes), Elimination (three or four man matches where each person pinned or knocked out is eliminated), Path of Champions (pick your favorite wrestler and take him on one of three paths against Randy Orton, The Undertaker, or De-Generation X), and finally, there is Fantasy Warfare which allows you to see who would win between past and present stars.
The final point in the game where variety comes into play is the returning Create-a-Superstar mode. You can choose from a wide selection of different moves, specials, finishers,looks and other possibilities to make your perfect wrestler. You can get silly and make a comical character to show off in online battles or you can make him a honed powerhouse that destroys everything in his path. The choice is all your in Create-a-Superstar mode.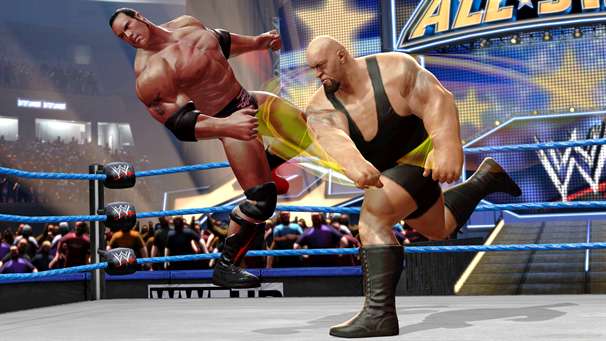 NOT
Graphics
The graphics in WWE All Stars aren't exactly the best out there. The textures on the characters are kind of dull and muddied and the game suffers from the two toned audience that is made up of people wearing two different shirt colors. There is also occasional clipping in the game that sometimes just gets borderline hilarious. It's pretty amusing to see Randy Orton Fusing together with Randy Savage to form one messed up mutant. Sometimes the characters become one with the ropes and have them impaled through their midsection when they go to rebound off of them.
Voice Work
There isn't much in the way of voice acting in the game but what voice work you do hear is almost unbearable. The announcers sound good but when it comes to progressing the story I found myself skipping the cutscenes in order to avoid the atrocity that was The Undertakers voice during his story.
VERDICT
WWE All Stars is a solid game in all with enough to please wrestling fans and fighter fans alike. The over the top arcade style feel is a nice break from the almost realistic simulator type SmackDown vs. Raw series. While the graphics aren't the best and the voice work can get pretty bad at times, the game makes up for it with a fun fighting system, a wide variety of game modes and fighters, and the ability to create your own superstar for use in different matches. If your on the fence about it and you love wrestling, then rent it first and give it a test run.
[Editor's Note: WWE All Stars was reviewed on the PlayStation 3 platform. The game was provided to us by the publisher for review purposes.]
WWE All Stars Review

,