It seems like it hasn't been long since SOCOM 4 was announced for the Playstation 3 console. Here we are a year later and the game is slated for an April 19 release. And from what I played so far in the beta, it's definitely going to please SOCOM fans and shooter fans alike.
The biggest point to mention is that it keeps the same tactical feel of SOCOM and the huge amount of weapons while giving you improved graphics and an interesting weapon level up feature that I haven't seen yet in a SOCOM game. Beta players were given 2 different game modes to play with 2 different variations to play them. The first was Suppression (Team Deathmatch) which could either be played on Hardcore SOCOM settings or standard settings. The Hardcore SOCOM settings don't allows respawns or health regeneration. Standard mode gives you all the bells in whistles of your standard shooter. The second mode is called Uplink which has you playing two rounds, one as a defender preventing the enemy from taking intel and the other as offense attempting to steal that intel. Both of them have a strong tactical feel that allow you to work with your team as a cohesive unit in order to complete your objective.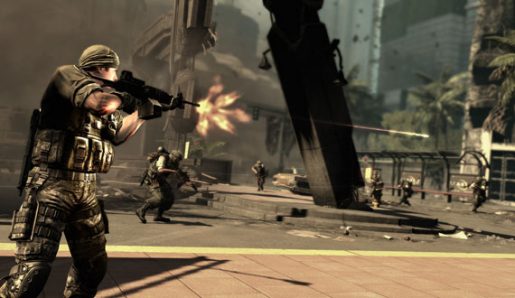 My favorite aspect of the game so far is the weapons and their individual progression system. There is a vast number of weapons to select from even in the beta and each one you use "levels up" individually. For a certain amount of kills with your piece of choice, you will be granted a new mod level that adds things such as foregrips, silencers, reload speed reductions and more. You want that shiny new 40mm underbarrel launcher for your M4? Start killin'. You mix and match your loadouts as well. Want to keep an assault rifle handy with your long range sniper? Just set it up before you spawn. You can mix and match different weapon categories any way you see fit. Definitely adds some personal flair to each player and their play style.
The final few things worth mentioning for a game that's still in beta phase is how smooth it runs with a full room of 32 people and the awesome community that plays the game. I've always found that SOCOM players tend to work together better than the CoD community. It makes the game fun and worth playing when your team actually strives to defend or steal the objective rather than rack up their own personal killstreak for fun. SOCOM 4 is definitely shaping up to have a solid multiplayer experience that fans of the series will love. The beta goes live for those who purchased Killzone 3 next week and the public beta for everyone goes live the week after. The game itself is set for an April 19 release date. See you all on the frontlines!