A small number of people are recently reporting across the internet today that gamers who purchased the Nintendo 3DS is suffering from the dreaded, "Black Screen of Death".
The "Black Screen of Death" is basically an error message that prevents player from further playing the console. The only time you'll know that you got this dreaded Black Screen of Death is when you get an error message while playing that says, "An error has occurred. Hold down the POWER Button to turn off the power, then turn it on and try again…" For some people, they say that they got this message by simply playing certain games like Ghost Recon: Shadow Wars, Super Monkey Ball 3D and even Street Fighter IV. Others said that sometimes, you will get a black screen on both screens.
According to Nintendo, updating to the newest firmware should fix the problem. However, if the problem is still there, Nintendo suggests to send the system in for repair. Here's the official statement of Nintendo;
Our recommendations are that if anyone is experiencing any problems with their Nintendo 3DS console, we recommend that in the first instance they download and install the latest system update, now available online. If the problems still persist we recommend they contact their local Nintendo Customer Service centre to investigate the problem.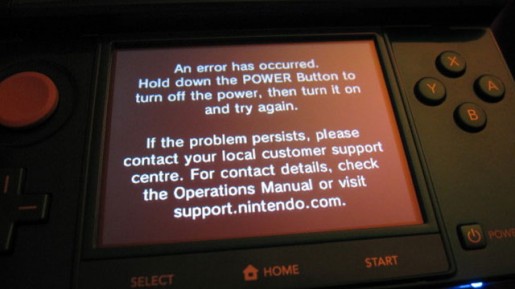 Image courtesy of someone from NeoGaf
As of today, it seems that only a small amount of people, probably in the 2%, are experiencing this issue. Let's hope that this will not be widespread and can be fixed via the firmware update.