Bulletstorm is the brand new first person shooter from People Can Fly that allows players to 'Kill with Skill'. Players take control of Grayson Hunt the leader of the Dead Echo squad, Dead Echo as they turned against their old confederate general. Hunt is hell bent on revenge to try to gain some reconciliation for the wrongs the general made him and his squad do.
Trying to be different is sometimes a risky business has Bulletstorm managed to be revolutionary or failed to convert the masses?
Let's find out by kicking off the HOTs and NOTs.
HOTs
Comedy Value Of Skillshots
The Skillshots are Bulletstorm's most unique and entertaining feature. The developers People Can Fly must have thought long and hard for some of the games many Skillshot titles. They are full of comedy, puns and innuendoes; some of the more playful titles include 'Topless' and 'Gag Reflex'. They are well thought out as for example 'Topless' is achieved by cutting off an enemy's torso, certainly a playful twist on a points system.
Storyline
While slow to start the story does pick up and help holds the game together and wildly improves the title. It give meaning to the game, so players don't get the feeling that they are just going from one area to another killing with skill for no reason. Lot of titles which try to be so different in the gameplay field, forget the rest of the game but Bulletstorm is an exception to this which certainly was a pleasant surprise.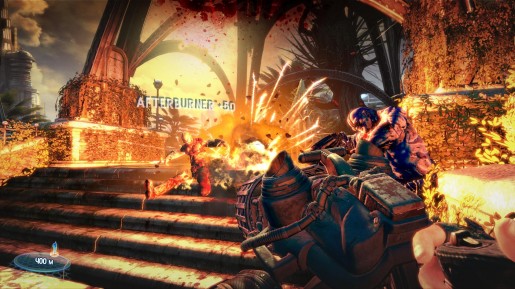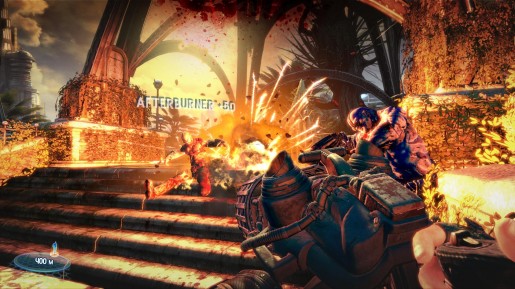 Bulletstorm is full of little one liners, that not only are funny and amusing but also help add a lot of personality to the characters. This helps the storyline as bonds are made between characters both in cut scenes but more importantly extends the story during the firefights.
Echoes Mode
As well as the storyline there is also Echoes mode which takes small sections of the storymode and rates players. Players not only have to try to get the highest points via Skillshots they are also timed to add even more challenge. This adds some replay value to the game as players can try to beat their scores as well as aim to be at the top of the leaderboards.
Presentation
As soon as you load up Bulletstorm you know it isn't just another bulk standard first person shooter. The setting is mostly a scene of bright and colourful environments, from a shocking lightening storm to lush plants which attempt to eat you. The visuals help emphasize that Bulletstorm is here and ready to break the mould, yet Bulletstorm still manages to look graphically impressive and satisfying on the eye.
Alongside the environments there is one other aspect which looks amazing: that is the explosions and believe me there are a fair number of them literally from the start to the very end. The explosions look so good players will find they use guns that make bigger explosions than damage just to see them.
The visuals are matched by the incredible sounds from the squelch as mutants are sliced in half to the extreme gunfire full of firing rounds and supercharged explosions. Not only does it make the game sound great but it majorly intensifies the action, as it seems to surround the player.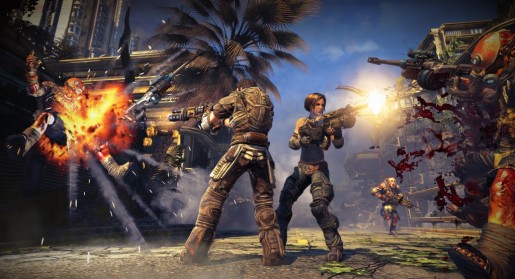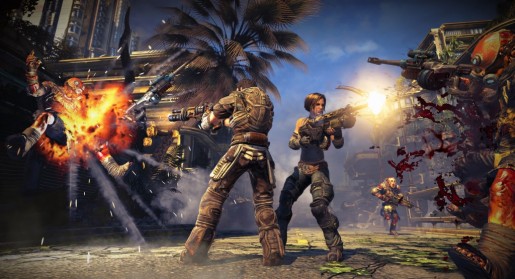 Variety of weapons
Bulletstorm doesn't offer a massive number of weapons but with the mix of weapons it does offer it really doesn't seem to be lacking on the gun front. When it comes to weapons in Bulletstorm there is a lot of variety, the only problem being you never know which to choose as they all have great overcharged powers. Some will fry your enemy down to the bones were others will slice them into pieces. The sniper even allows you to control the path of the bullet to make that perfect shot: this meant the sniper was usually one of the weapons of choice, especially as when supercharged the rounds exploded!
Online
The online takes the singleplayer gameplay and adds teamwork into the mix. The online works, by putting up to four players in a lobby, with a wave of enemies constituting a level. The twist is, the objective isn't surviving the round, it's to rack up enough points to pass the set target. Teamwork is the key for racking up some of the larger scores which certainly are needed to pass later levels. Team Skillshots just likeh3 the singleplayer has been majorly thought out with titles such as "Double Penetration" and "Tug-of-War".
With multiple players all doing their own thing while attempting to work together for larger scores it soon becomes a mass of action and bloodshed which is nothing less than awesome!
NOTs
Repetitive
Bulletstorm suffers from being a tad repetitive. While there are changes of things such as the mutants and gameplay is mixed up, bulletstorm stays entertaining but some of the later stages do occasionally feel like just more of the same. Areas are usually filled with a standard mix of mutants and a mini boss thrown in for a challenge, fortunately the unique things in areas of the game such as a lightning storm or plays that will try to eat the play keep things fresh enough not to get boring but more variety with the enemies would have been nice.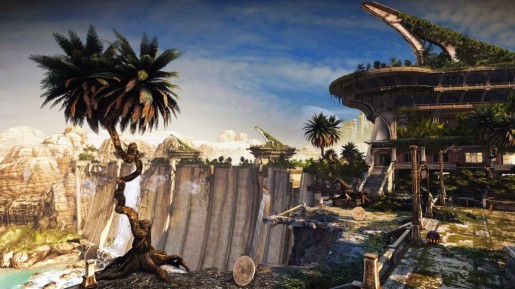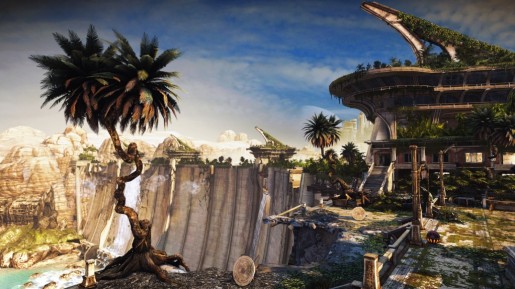 Take cover
When shot, Bulletstorm will helpfully suggest that you take cover; unfortunately taking cover in Bulletstorm isn't that easy. It's not because of any particular thing but most cover opportunities still leave you heavily exposed or at the major disadvantage of being easily flanked. This coupled with what felt a clumsy crouch mechanism, meant it's usually not an option to find cover and a matter of whether the enemy would be downed before the player allowing them to regain health.
Some sort of a cover system against the barrels or walls would work perfectly although it would slow the games pace and the pace is one of the best aspects of Bulletstorm.
Verdict
Bulletstorm is a refreshing change to the bulk standard first person shooter titles which seem to be constantly churned out as of late. It breaks the mould and for once it does a damn good job of it! Unfortunately with trying to be so different it was bound to have some minor problems but these can mostly be overlooked as players will have a lot of fun playing, be it the storyline, echoes mode or the fast-paced online mode. Fingers crossed there will be a sequel as that would have a chance of being as close to perfect as you can get game wise.
I'd of liked slightly more variety in the games objectives but there were some intense and highly amusing aspects, one area to highlight for amusement levels has to be the innuendo full Skillshots as they alone give players entertainment value.
[Editor's Note: Bulletstorm was played on the PlayStation 3 platform. The game was provided to us by the publisher for review purposes.]
Bulletstorm (UK) Review

,