The acclaimed BIT.TRIP game series for the WiiWare™ service has thrilled audiences with its mix of retro style and inventive game play. This week, new and longtime fans are invited to experience the series' final installment, BIT.TRIP FLUX, and join CommanderVideo for one more unforgettable ride.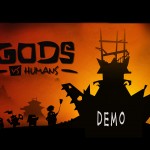 Embody major gods from Scandinavian, Egyptian, Roman and Japanese mythologies in the demo version of Gods vs Humans. As a god, you have enough power to rule the humans – all but the cheeky ones. Some of them want to enter your domain and have decided to build a tower to confront you. Use your divine powers to bring them down and show them who's boss. Be careful not to hurt them though – you need people to believe in you. The game includes 60 levels for the solo campaign, 16 playable gods with specific powers, four hysterical bosses to defeat and 16 additional challenges for experienced players.
Also this week, the Nintendo DSiWare™ service offers a variety of new hand-held games to satisfy a multitude of tastes. Rise to the challenge of running your own eatery in My Little Restaurant, enjoy physics-based arcade action in Magnetic Joe or fend off an alien invasion in Monster Buster Club.
This Week's Games:
WiiWare – BIT.TRIP FLUX, Gods vs Humans (demo version), Pong Toss Pro – Frat Party Games® (demo version)
DSiWare – My Little Restaurant, Magnetic Joe, Monster Buster Club