Lord of Arcana is a fantasy action title set in the world of Horodyn. The premise behind the game is that only one with power can obtain the power of Arcana, which of course players set out to get. The game offers players over 80 separate quests including a number of boss battles for players to complete. Players will also get rated on their performance during each mission they complete.
But how will the game be rated? Let's find out and kick off the HOTs and NOTs.
HOTs
Bosses are hard and unique
The bosses in Lord of Arcana, present a unique challenge for players. Each stick to pre-set patterns, and players will struggle at first, but eventually master them.This is helpful to players who otherwise know little what to do other than hit and block or hit and run. They are all well designed and all pose different battles. Most battles will end in unique quick time events. The best boss in my opinion is the second boss who appears to have a fiery mouth coming from his stomach. I have not seen anything so unorthodox like this in a video game before.
Presentation
Graphically, this game is no masterpiece but it is still rather pleasant on the eye due to the slick and sometimes, over the top animations. Everything from running to a simple mace pounding looks smooth. One part of battle truly stands out when talking about animations and that is the 'Coup de grace' finishing move. The 'Coup de grace' happens when a player targeting an enemy has beat them to within a few inches of death and unleashes a rather devastating and slightly gory ending for the enemy in question.
All this is backed up by impressive sword slicing, body squelching and box-crushing sounds. The game's sound effects really allow players to believe they are dishing out a world of punishment or sometimes, unfortunately receiving it. The game's background soundtrack is also pleasing on the ears. On many occasions the mute button is your friend when it comes to repetitive music. Thankfully, the music is great so you want mind hearing it.
Player Choices
This title doesn't go lightly on player choices. This is certainly a nice touch allowing players to not only tweak the gameplay towards their playing style, but also gives them a sense of being able to improve the main character through the weapon and armor development section. From the start, there will be a host of major options to choose such as the characters' name and which weapon to start off with. The choice of weapon can be changed at any time which allows players to use all of the weapons throughout the game even though sticking with the one does make things a lot easier. Picking the player's looks has plenty of choices too. You can choose to be a male or female with any arrangement from the 16 face types, 3 skin colours, 8 hair styles, 9 hair colours, and 8 voices.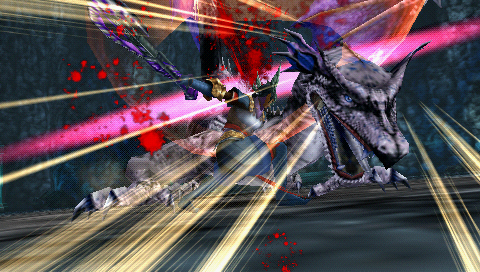 Players also get the choice of things such as their guild tag and even what their greeting to other players will be when playing via the PSP's built in WLAN. While it may seem most are just simple visual changes with only the weapon choice being the important changeable feature the fact players get some much choice allows them to personalise their experience which can make their time spent playing Lord of Arcana more enjoyable.
Intuitive Controls
Before even being told which button does what in the tutorial section of Lord of Arcana, I was able to guess the correct button for all actions but the camera adjustment. Fighting in battles feels natural due to this instinctive control scheme allowing players to quickly pick up and have fun playing the game without the need to learn complex or odd controls.
Weapons Balance
Lord of Arcana has a decent variety of primary weapons, the selection is up to the player but all are balanced; so players will never feel like they have picked a better or inferior main weapon. For example, there are 2 swords to choose from one being one-handed with the other being two-handed. While the two-handed method does more damage it is a lot slower in battle and with the one handed sword, players can equip a shield.
The polearm and firebrand both fair better at a slightly further range compared to the swords and mace: if the player isn't at the required distance for the weapon they are using, the damage will also not be the best. All this means is player can enjoy the title fairly and balanced with no extra chances for any certain play style.
NOTs
Gameplay Slow paced & Extremely Repetitive
At first, the gameplay feels new and largely satisfying but past the initial quest where players find themselves maxed out the game goes to a much slower pace and takes a good 5 to 10 hours to pick up again outside of boss battles. One of the most annoying parts of the gameplay is the fact it is constantly being broken up by loading screens: while often short, on some occasions you can find over 10 in the space of a minute. For some reason, battles are initiated in the open world but then begin in a separate ringed off area this means yet another short loading pause, this alongside going from one small area to another are the main to contributors to the amount of loading screens.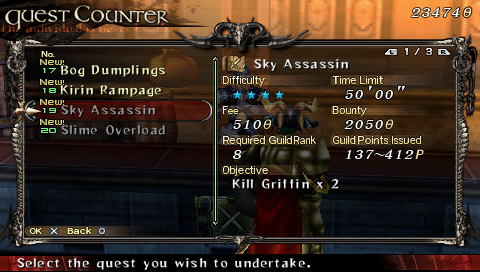 Another major problem is that apart from the unique boss fights there is a lot of repetitive mini battles, with things from goblins to skeletons. Players will spend the first few hours of the game and only seeing a handful of different monsters to take on which added to the slow pace doesn't help stop players from putting the PSP down or changing game.
Solo Players Missing Out
Due to its repetitive nature, the singleplayer can get boring but not only this, players that only play by themselves are missing out. The feeling of missing out on a massive chunk of the title comes about as you can enter the guild building but not really do anything else new without other players. Also, the normal enemies take too much damage when players are on their own in comparison to multiplayer.
No Online multiplayer
The game restricts players to either playing by themselves or via the wireless local area network feature the PSP has. While the option to have 4 player co-op multiplayer is clearly good, as there isn't an option to go online and team up with people. This means that most will never be able to play with a full party of 4 and in many cases with other players at all. This unfortunately means while not missing content they do loss the opportunity to enjoy the game more which removes chances of the title staying fun for many players.
Forgetful Story And Characters
While there is a storyline which unfolds throughout the title, it really fails to captivate players. It seems more of a link between fights than something to get sucked into and if the game wasn't backed by flashy weapons and animations players' interest would soon slip.
The characters are also like the story; rather forgettable. The main character is always second best to whatever he is fighting, be it a boss or small goblin doing little damage on them in the early chapters. Other non playable characters make little impact and mostly just guide the player to another quest rather than furthering the story.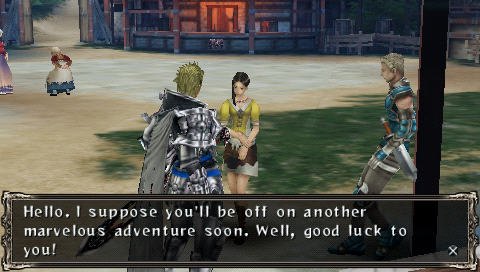 Camera Controls
When it comes to battles or even just walking around the open world of the game, players will constantly have to be pressing left or right on the D-pad to be able to see where they will be heading to next. For some reason, the decision was made for the camera to not automatically follow behind the player: this would have worked a lot better as well as making targeting enemies outside of the lock on feature a lot easier. Players do become accustomed to it but expect to at least in the first few hours of the game to often have to stop, sort out the camera, before heading off or attacking.
VERDICT
At best, Lord of Arcana is an okay title. Fans of the genre will most likely find the amount of time you will spend playing a blessing. For most, the game will be a somewhat monotonous experience until you hit the latter parts of the game. It's a shame the game didn't keep the pace from the starting level throughout the whole title as it would of certainly been a much more enjoyable title then as the first few chapters after the initial quest are too slow for many. Luckily for the title, it has some saving graces. The boss battles especially are fun and you get a good feeling of accomplishment once they are done with a decent presentation if you can get through the slow paced sections the game is worth a play.