According to Subway, Infamous 2 will be getting the collectors edition treatment!
Sadly Subway says nothing more than "Infamous 2 Collectors Edition" so no clue whats so special about it. However this gives us something to look forward to in the future from Sucker Punch. However I can tell you Subway lists some interesting DLC for Infamous 2 already.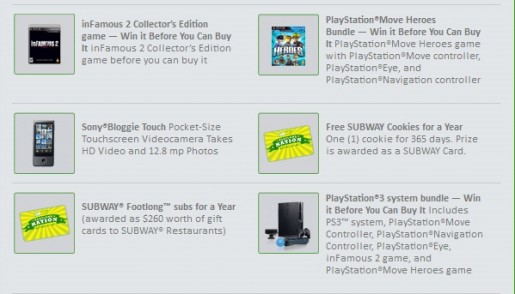 DLC Mentioned:
Exclusive Infamous 2 power enhancement – Exclusive superpower for Cole
Infamous 2 Mission Packs – Get (3) extra missions of game play in inFamous 2
Exclusive Infamous 2 Character Skin – A new outfit for Cole in inFamous 2
finally and most inte
resting there appears to be a facebook game.
Infamous 2 Facebook Game Experience – Infamous 2 Facebook game experience can be used to purchase items within the game
Check back with us later, as more details become available!