NIS America is no stranger to niche titles; Hyperdimension Neptunia is no exception. The game follows fallen goddess, Neptune, named after the never released Sega system. You're whisked away to a world where consoles are gods and where games are a lot more than graphics. Many will find themselves intrigued by this rather original take on classic RPG settings and concepts.
Will Neptunia rise to greatness like the Genesis, or will it start strong and die out like the Dreamcast? Find out in this edition of HOTs or NOTs!
HOT
Strong Central Characters
Neptunia follows a very small set of characters. Not counting standard "move the story along" characters. There are less than 15 core characters. Most of them just have their own role in a specific land's story and last only as long as they're needed. This helps Neptunia a lot! Considering your main party doesn't go past 3, until you're up to the latter stages in the game. Unless you have DLC unlocks for NISA and Gust (they join, but aren't playable or talk in the main story.) can more than 3 people be in the party. This gives you plenty of time to interact with Comp, Neptunia, and IF.
Not only is the main party strong, but the core "Goddesses". Each Goddess has a personality similar to the companies' style. This helps the story feel a bit stronger, while not actually adding much.
AP System
The AP battle system is nothing new in these games, but Neptunia gives it a fun new twist. The first change is that you can now take your time. This helps you really get into the game unlike in prior titles. In Trinity Universe for instance, once you start attacking with a character, you will lose AP every second you don't make a move. This forces you to spam out simple combos, or memorize good chains. Since you can freely think and change your moves, the game appeals to a broader group than just to button mashers.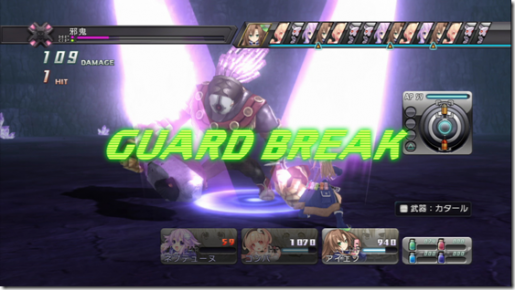 The next change, (and perhaps the biggest) is how combos are handled. In previous titles, a certain chain of attacks would set off a special combo attack doing additional damage. However, in Neptunia you get to control all aspects of the combo. You can control every aspect of the attack which is very interesting. This includes the name of your combo, type of attacks, AP used, and how it ends. The ending of combos adds new depth to the game, since you can switch which allows a "2nd tier" character to replace your main and continues the chain. You can also "Chain" which uses the last button inputted as your first attack, gives you some AP back, and allows you to hit "Tier 3" skills faster and with less cost. Finally Goddesses feature a "Transformation" closer; these allow them to change into a more powerful form. Not only are they more powerful, but you get slight control in how they look via HDD's you buy or find.
Master System Magic System
The most interesting, and let's face it coolest aspect in Neptunia is this. Since Neptune is based off the Sega System, she can summon games from the Master System (Genesis). These are not the usual suspects like Sonic, and Puyo Puyo, but more like Alex Kidd. All of the summons will bring a smile to your face, as you're transported to the Genesis days. Altered Beast for instance, has flames at the side of the screen featured when you change from human to beast. Another being, The Super Shinobi (Revenge of the Shinobi stateside, it's not localized in game either.), which features "Ninjutsu of Karyu" or perhaps better known as the "Flame Dragon Skill". Every Master System title has a throwback, but sadly that's as far as it goes. Past summoning them, the actual magic is virtually unchanged. There are also not many, something like 8, but the effort is more than enough to make me love the system.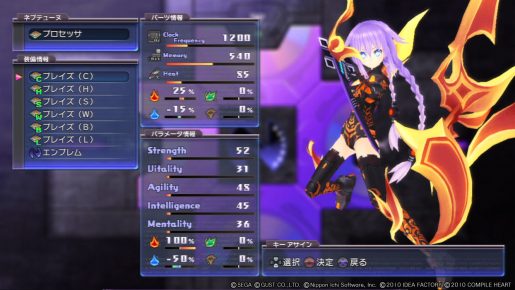 Customization
As aforementioned, the combat system is quite versatile much like the transformation system. Another great aspect is how much you can change your character. Every character features a "head" object, and a "body" object. You can buy or find several changes to make them yours. Comp for instance has the headband, bunny ears, cat ears, glasses and a bow. These changes like weapon changes make you look different in any model-based setting. Be it wondering in a dungeon, combat, or changing the clothes. As mentioned earlier, the goddesses have the HDD's too, these are quite interesting. As every HDD is broken up into several parts, you can really customize a character, or keep one solid theme. There are many sets, and several single pieces to make your goddesses your own.
NOT
Story
As you play, you will rarely feel a strong connection to the game. This is due to the constant references the game just tosses out there. They start out cute, but once you get into the "Red Ring" table at Leanbox, and such it serves to disconnect you from the story. The other big problem is that you can't really do one zone stories at once. To generally be powerful enough to finish the story, you should have beat about as much in the other zones. This can make following each zone's unique story, a little harder to follow. None of the side main stories are really that memorable. Laststations for instance is just doing odd jobs, one company is evil and you're looking into it the story ends with them going to an expo and… The other core problem is the minimal core story.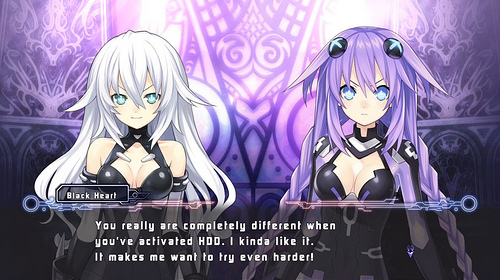 *Spoiler*
The core story doesn't really make you feel anything. It starts with Neptune falling, and then the Historie asking her for help but getting key fragments. From there, you go to each zone and do the aforementioned stories. These all end with the goddess giving you a vague idea where the piece is. Once you get them all you release the Historie, and she explains the final boss. This finishes off with collecting legendary weapons, and the power of togetherness to take down the boss.
*/Spoiler*
A common and almost depressing theme, is a lack of action in story based stages. Many of them will talk about doing something, like Gust has a stage where a friend needs an item to live. This is resolved by a black screen, and ends with you just obtaining the item. Even the big story element of releasing the Historie, is resolved by them needing to find her. Only to do it in the middle of the cut scene. Dungeon missions however, generally lack a reason. They contain only the bare information, like who needs help, what's going on which is summed up in a paragraph, and the level needed.
References
There are several nonstory based cutscenes, most of these involve the core world in some way, and make a reference to something. These are generally painfully obvious, but many will have elements that will be confusing to less informed gamers. One example was a "Blue Dragon" cut scene, where you meet a manga creator (reference to Akria). Upon talking to him, he mentions he does series about clothes ripping, and powerful characters (DragonBall). From there he points out that you're not under a tree but a Blue Dragon (Game of the same name), and that he came to protect you from the heat with his shadow (In game element).
These references only serve to distance you from the fantasy, and makes you wonder what is really real or a reference. Due to the game's strong subtext, this can cause you to over think the game, and lose a lot of the joy in playing.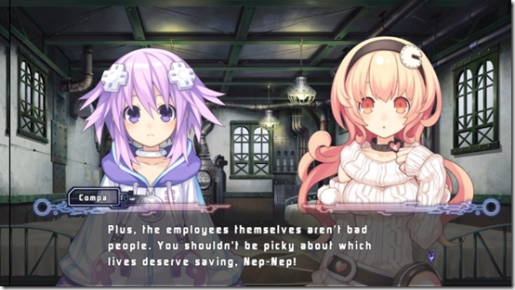 Subtext
Subtext can be a great tool, if it's well done. Sadly, this is not the case here! If you don't come out of Lowee for instance, knowing that it's a Nintendo reference… I don't know why you're read this review. This isn't so bad if it wasn't for the end boss, and story villain "Arfoire". You see in most references to her, they all point to piracy. Even her name sounds like a very well-known piracy tool. The moment this hit me, I was strongly put off.  While I don't, nor does JPS support piracy. It's not like any of us are looking for a preachy game, about how evil it is. To avoid more spoilers, I will not really get into it, but once you collect all the key fragments it becomes very apparent.
Dungeons
Any true RPG, has some sort of dungeon system. Neptunia is no exception; however the timed challenges can be a pain. The basic outline is doing some sort of take, 80% of the time it's killing a boss. You get timed, and everything counts against you. Some of these things include, fighting, death animations, attack animations, black screen while the game is loading, opening treasure. While the tasks are not hard to achieve the S rank, you do need to basically button mash, skip all animations, and try to get to the boss ASAP.
This is quite contrary to the joys of the new AP system. Many will find the other types a nightmare. Since you can't control the rate of a drop you need, or fight with a monster you need. I personally spent 10 minutes alone, trying to kill one of them. This can become quite stressful as the ranking system is never really expanded upon. The leaderboard where I personally have done 10 minutes better than the lowest review, on my first try can get annoying too.
Finally, you heal based off ratios on skills you obtain. These use items you find, get after winning a fight, or buy. These can get annoying as some of the more useful skills are only useful in boss situations. Since several boss situations are random, you may find yourself at a loss. In addition if someone falls, you're basically screwed and need to restart the dungeon. This becomes less of a problem as time progresses, but it's without a doubt not the best for everyone.
VERDICT
Neptunia is a huge step up from Trinity Universe. There are many amusing elements to keep you playing, and finding the references can be fun for a while. Despite the flaws, the game is quite fun to play. There are over 100 dungeons to explore, and plenty more with DLC. The difficulty is also pretty low, so that makes it a lot easier to enjoy the game and overlook some minor flaws. If you're looking for a quirky RPG, with some laughs and giggles in-between, you can't go wrong here!
[Editor's Note: Hyperdimension Neptunia was reviewed on the PlayStation 3 hardware. The game was provided to us by the publisher for review purposes.]
Hyperdimension Neptunia Review

,