Fans had requested it and Treyarch listened. In the first DLC pack called "First Strike", you're given five new maps priced at $15.00 or 1200 MS points. Four of these maps are for multiplayer. Kowloon, Discovery, Berlin Wall, and Stadium. These maps hope to give gamers new challenges, and places to explore. The final map, Ascension adds new elements to the zombie mode.
Is First Strike a successful preemptive strike, or do you get blitzkriged ? Find out in this edition HOTs and NOTs!
HOT
Map Design
First Strike features no shortage of balance, with maps that support both long and short range fans. There's a little something for everyone. Stadium for instance, is great for close range fans, with no shortage of twists and turns. Snipers will be at a loss of what to do though!
Kowloon has you jumping from one rooftop to another in order to gain the high ground on your victims below. Jumping from rooftop-to rooftop will require some practice but it adds depth to the gameplay a lot of the other maps don't have. Snipers will love the map but people who love to run and gun will find a home here as well. There are plenty of rooms to get lost in and it took me about three play throughs to understand the layout of the map.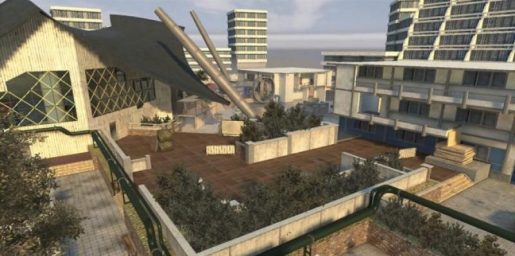 Berlin Wall separates the map into two sides where the center of the map features a "no man's land" where guns shoot at you. This map is great for long ranged players and there is some houses to get lost in, but most of the action is at long range. For players who can't wait to run around the whole map, there is a small area in the very middle to run through where the guns can't shoot at you but be warned; most people will be camped on the other side waiting for you.
Discovery is the perfect map for snipers as most of the map is a wide open area and features very little coverage. People who love short ranged combat might skip this but the map is still fairly well balanced. You can take cover in buildings in order to get a good sight on the enemy or go around the sides in order to flank the enemy from behind.
Ascension features a lot more ways to get killed but enough escape routes to feel in charge of your death. Instead of the usual teleport your way out of the room landers fly you from one end of the map to the other. Team work is important just like any other zombie map but is harder than what you're use to with Five and Kind Der Totten.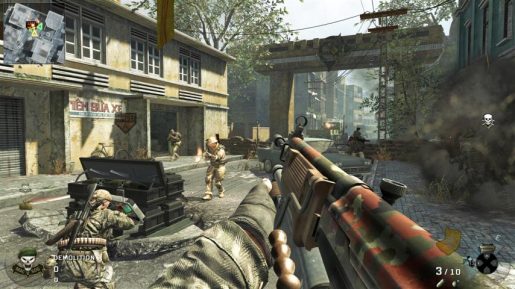 Presentation
All the maps really do have one thing in common. This is the attention to detail in each map. Each local feels accurate and if you have time to take in the sights, you will be amazed at the little touches. Berlin Wall has a vinyl record store filled with unique records. Stadium takes place in and around a hockey arena with a detailed hockey rink inside. Kowloon has you jumping from rooftops in Asia. Neon Signs flicker off and on as rain pours down the sides of the roof. Discovery is set in snow and features an amazing sky that is reminiscent of the Aurora Borealis.
Ascension is the one map that is really breathtaking. The game starts off in black and white with you landing onto the Russian space station. Once you turn on the power, color comes back to life as you fight for your life to kill the zombie horde. Instead of hordes of dogs coming after you, zombie space monkeys complete with suits want nothing more than to rip you to shreds. Even though this scenario seems impossible to occur, the presentation itself almost makes it seem like it could.
NOT
Map Gimmicks
This time around, Treyarch has promised us that the maps will feature more interactions than prior maps. The problem is each interaction usually leads to death or are never touched because they are out of the way. Kowloon features a zip line that lets you get from one end of the map to other in a short amount of time. The problem is that the zip line is so exposed that you will always get shot while you're zipping down or afterwards because a player is camped on the other side. Discovery features a destructible bridge that can be destroyed but most players just avoid that path all together. Destroying the bridge usually takes too long compared to just shooting the player which is easier. Berlin features the best one turrets that keep you from running through the center of the map but players have no control over when the turrets shoot which is why it is probably the best feature.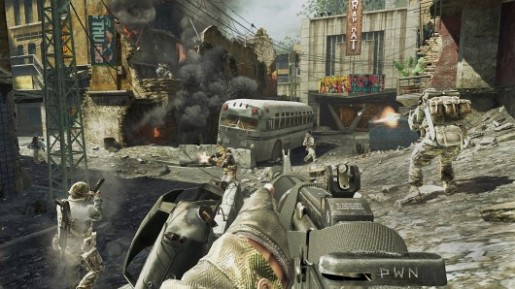 Content
While Ascension features new weapons like a black hole bomb that sucks in enemies and matryoshka doll which acts like a cluster bomb the game features nothing groundbreaking. If you didn't like the multiplayer the first time around, then this map pack will not catch the attention of players who might have missed it the first time around. For the price of 1200 MS point, this feels more like it should be at the highest 1000 MS points. Activision knows that the majority of players will fork over the money even it only featured one map.
Verdict
If you find yourself playing Black Ops at least once a day, then this is something that you must have. For the casual Black Ops player though, you might want give this a miss. The maps show off the versatility of both long range and short range combat. Ascension features some great new weapons and is visually breath taking. It is time to answer the Call of Duty, but be warned, it comes at a high cost.
[Editors Note: The DLC was provided by the publisher for review purposes, and was played for an extended period of time.]
Call of Duty: Black Ops "First Strike" DLC Review

,