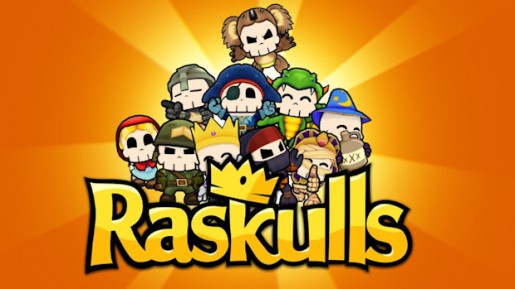 Raskulls is a unique 2D platforming game that adds a bit of humor and puzzle solving to make it one of the more enjoyable XBLA titles out there. Don't be fooled by its cute appearance as Raskulls is a title that can be enjoyed by any gamer no matter what their age.
Without further ado, let's take a look into the HOTs and NOTs of Raskulls.
HOT
Graphics
The cel-shaded graphics are the brightest and most colorful I've ever seen. It's like a playable cartoon in HD. Also noteworthy are the character models which look cute. Although the majority of the characters are skulls they're a lot of them with different appearances. The first skull you'll control in the story mode dresses up like dragon but he's not as cool as the skull who's a skillful ninja!
There are a lot more skulls you will get to see as you progress through the story too. The enemies are one of the realistically hideous I must say. They're dirty hairy rats and they look nasty. From their long whiskers and brown dirty fur, I'm sure any body who will play this game will scream in fear the first time they lay eyes upon them (I know I did).
Unorthodox Gameplay
Several 2D platform games are simple when it comes to their objective. Most of the time it's walking from point A to point B while beating up a bunch of baddies while you're at it. Raskulls offers something different as it's a mixes bits of racing, puzzle solving and action in several of it missions. The main style of gameplay is racing against the clock and/or other opponents to reach the finish line while zapping away colored blocks and picking up power ups on the way.
But there are other game modes within the main story that varies the gameplay. Some of the puzzle include needing to sculpt specific shapes of blocks or trying to break as many blocks as possible before the time runs out.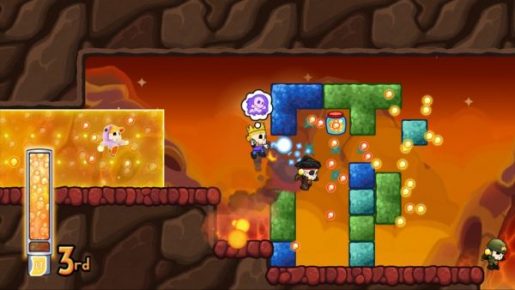 Boss Battles
Boss battles are fun and offer a sense of suspense and excitement while you're doing them. This is because most of them involve you running away from impending doom. One baddie flies around while you have to avoid his laser blasts. They're fun and tense and will remind many gamers of Crash Bandicoot when he had to run away from big boulders. The last boss of the game was the most enjoyable but I won't spoil it for you yet…
Multiplayer
You can race other people both offline and online with up to four players. The characters you can be in multiplayer are diverse and people who have played "A World of Keflings" and "ilo and milo" will see some familiar faces. The multiplayer mode is fast and frenzy and there are several stages to keep the gameplay fresh and exciting.
NOT
Violent?
The game as a whole is not violent but there was one scene in particular that made my eyes bulge out. Two of the rat baddies ganged up on one of the poor skulls and beat him up TO DEATH with baseball bats. At first I thought he would magically recover from the beating but at the end of the scene you'll see the cartoon-like crosses on his eyes which marks that he died. I thought it was a little odd having a scene like that considering this is game meant to be enjoyed by gamers both young and old. Imagine a mother seeing her kids playing this game and seeing that scene…
Shortish
The main single player mode is quite short with only three chapters. Although you can go back and play some of the bonus stages you may have missed on your first play-through, I would have liked more stages in the game. Five chapters would have been a more sufficient length for the game in my opinion.
Verdict
Raskulls is an enjoyable 2D platforming game that is bound to entice gamers of any age. The unique ideas that have been incorporated in this game will keep you occupied for hours on end. Despite a short single-player mode, the multiplayer mode makes up for it. Highly recommended and one of the more innovative games I've played recently.
[Editor's Note: Raskulls was reviewed on the Xbox 360 hardwae. The game was provided to us by the publisher for review purposes.]
Raskulls Review

,